Between picture-taking with teenage girls and handing out gloves and wristbands to hungry kids, Kansas University linebacker Nick Reid was asked by a television crew what the defense did so right Saturday.
Nothing out of the ordinary, he said over the crowd, before screaming: "We've been doing this all year!"
Amazing how much better it looks when the scoreboard is there to back it up.
KU's defense finally was rewarded for weeks of consistent, gritty play: a 13-3 victory in the Border War game against Missouri, the showdown Jayhawk fans want more than any other, at a time KU - playing its first home game in 42 days - needed a victory more than anything else.
For the third straight year, the Jayhawks got the best of the Tigers, their hated neighbors to the east. Somewhere in Memorial Stadium, KU legend and equally legendary Missouri-hater Don Fambrough had to have cracked a smile.
The Jayhawk defense would make any KU fan proud.
Photo Gallery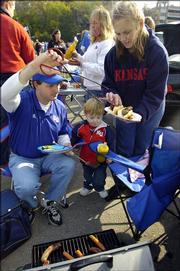 KU vs. Missouri
"I've had the good fortune to be in some really good programs that had great defenses," KU coach Mark Mangino said. "Today, I had never been around a defensive unit that executed their game plan exactly the way it was set up and practiced all week. It was nearly flawless. Unbelievable."
Missouri quarterback Brad Smith, who just seven days prior became the first NCAA Division I-A quarterback EVER to throw and run for 230 yards in the same game, had 301 fewer yards of total offense against KU. Seeing what Nebraska did wrong last week, the Jayhawks chose not to blitz the daylights out of Smith, but rather cover the daylights out of receivers downfield, form a wall around Smith and wait for the speedy senior to run into it.
In the end, Smith had 141 yards passing, 38 rushing and two crucial turnovers in the last 16 minutes that put KU's victory in the bag.
Near the end of the third quarter on an option, Smith errantly pitched the ball to Brad Ekwerekwu, who already had KU freshman Aqib Talib ready to knock his head off. Talib instead got a hand on the football and wrestled it away, giving the Jayhawks a short field to work with.
"I expected to get a big hit," Talib said. "It turned out a little bit better."
KU (4-4 overall, 1-4 Big 12 Conference) already was up 6-3 at that point on a one-yard run by Clark Green in the second quarter. But the ensuing six-play, 42-yard drive - all runs - culminated with a 10-yard dash by Jon Cornish, who followed blocking by Cesar Rodriguez and Charles Gordon before diving in.
Kansas rushed for 204 yards, including 125 on 22 carries by Green.
"The game plan was to come out throwing the ball," quarterback Jason Swanson said. "But the offensive line did a good job of creasing some holes for Clark and Jon. Once our running game gets on, it's really hard to stop."
The 10-point lead was enough, and a Theo Baines interception late in the fourth quarter was just insurance that KU would be keeping bragging rights for another year.
Perhaps more importantly, though, was KU's return to optimistic thinking. KU played solid defense in most of the first four conference games, only to lose each one by at least two scores.
There were murmurs of potential for a broken locker room during the slide, but Mangino said Saturday's game was proof that it never came to be.
"We'll always stay together as a team," Mangino said. "I don't want to be arrogant or anything, but the KU football attitude here is one that will never be divided. We have all invested so much into it."
Talib was peppered with the same question that Reid was asked after Saturday's game. After the goalposts took a swim in Potter Lake, after fans swarmed the field, and after the high-fives and helmets slaps made dozens of hands sore, a reporter simply wanted to know: What did the defense do so right on Saturday?
"I guess," Talib said, "we had a good game plan."
A game plan followed to perfection - and to victory.
Copyright 2018 The Lawrence Journal-World. All rights reserved. This material may not be published, broadcast, rewritten or redistributed. We strive to uphold our values for every story published.