College Station, Texas — Todd Blythe was so good against Texas A&M; on Saturday, he was making touchdown catches with one hand.
The Iowa State sophomore set a school record with four touchdown receptions, leading the Cyclones' 42-14 rout of the Aggies. Blythe caught a career-high eight passes for 214 yards, the second highest single-game mark by an Iowa State receiver. His four TD catches was also a record for a Texas A&M; opponent.
"I've been waiting for a day like that," said Blythe, who caught four passes in last week's 37-10 victory over Oklahoma State. "Last week really helped in getting my confidence back. Obviously, this game did too."
His best highlight came early.
The Cyclones drove to the Aggies' nine-yard line in the first quarter when Bret Meyer lofted a pass to Blythe in the corner of the end zone. With his right hand pushing away cornerback Brock Newton, Blythe pulled down the ball in his left, foreshadowing the way the Cyclones toyed with the Aggies' defense all day.
"I didn't think he caught it at first," Meyer said. "I'm sure it will look good on film."
Meyer went 20-of-32 for 371 yards and four touchdowns, and Stevie Hicks rushed for 122 yards and two more scores as the Cyclones (5-3 overall, 2-3 Big 12 Conference) beat the Aggies for the first time in eight meetings.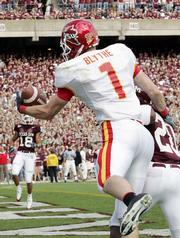 Iowa State has won two in a row after three straight league losses, two of them in overtime. The Cyclones were in a similar spot last season, losing their first three conference games before reeling off four straight victories.
"This time of year, you either get better or get worse," Iowa State coach Dan McCarney said. "This football team is getting better."
Texas A&M; (5-3, 3-2), meanwhile, had a five-game home winning streak snapped and suffered its worst defeat at Kyle Field since a 46-15 loss to Texas in 2003.
It certainly wasn't the way the Aggies wanted to head into a rugged November that features road trips to Texas Tech and Oklahoma and a season finale with Texas.
"We can't dwell on today," senior linebacker Archie McDaniel said. "It's something we've got to get through, we've got to live with."
The Cyclones manhandled A&M;'s league-worst defense all day, piling up 549 yards and converting 11 of 18 third downs. The yardage total was the second-highest on the road in Iowa State history.
Copyright 2018 The Associated Press. All rights reserved. This material may not be published, broadcast, rewritten or redistributed. We strive to uphold our values for every story published.