Nashville — The family bluegrass group Cherryholmes was tearing through a song last summer at the Ryman Auditorium when a guitar string snapped.
The lanky young picker in a white cowboy hat began working furiously to replace it on the fly. In just a few moments, the new string was in place and the group never missed a beat.
Things happen fast for the Cherryholmes clan of Los Angeles.
Only six years ago, the group consisting of Jere and Sandy Cherryholmes and their daughters Cia, 21, and Molly, 13, and sons B.J., 17, and Skip, 15, didn't exist. Three of the four children didn't even play instruments.
They practiced and performed relentlessly, though, and today find themselves the hottest new act in bluegrass.
Cherryholmes was named Entertainer of the Year at the 16th annual International Bluegrass Music Assn. Awards Thursday in Nashville, Tenn. The family band made history as the first act ever nominated for emerging artist and entertainer nods in the same year.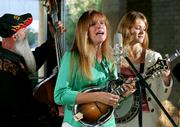 "It's kind of a mindblower," Jere said. "It's happened so fast."
And so unexpectedly.
In 1999 Jere and Sandy's oldest daughter, Shelly, died from chronic heart problems at age 20. To lift their spirits, the family went to a bluegrass festival where Grand Ole Opry stars Jim & Jesse and their group the Virginia Boys were performing.
The festival was their first real exposure to bluegrass, a musical form that seemed foreign in their tough Los Angeles neighborhood, where the children did homework crouched between twin beds because of frequent drive-by shootings.
"On the way home, I told Sandy that we ought to get the kids together and play music like that - not form a band and perform somewhere, but do it as a pastime, something to keep the family close together," Jere said.
At the time, Jere played guitar and bass, Sandy played the piano and Cia some guitar. But church performances were about the extent of their experience, and the three younger children didn't play at all.
Sandy was homeschooling the children and began incorporating music into the lesson.
Last month, they released their self-titled debut on Ricky Skaggs' Skaggs Family Records. The album, which has nine original songs, debuted at No. 3 on the Billboard bluegrass chart.
Jere says the group's success is way beyond anything he imagined when the family began playing music together for fun and fellowship.
Copyright 2018 The Associated Press. All rights reserved. This material may not be published, broadcast, rewritten or redistributed. We strive to uphold our values for every story published.