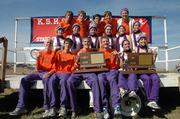 WAMEGO — Baldwin High won the team titles in Class 4A boys and girls cross country Saturday, and Eudora High's Brittney Graff took the girls individual championship.
Graff won her seventh race in a row. She finished sixth at state last year.
"Last year, when we checked out equipment bags, she checked out No. 6," Eudora coach Paul Boone said. "This year, we made sure she had No. 1."
Chris Elniff (3rd), Keith Cowart (7th), Grant Catloth (18th) and Spencer Wilson (20th) each medaled for the Baldwin boys, who scored 51 points to outdistance runner-up Abilene (63) and win their seventh straight team title.
De Soto's Tanner McNamara (17th) also earned a medal.
Kelsey Verhaeghe (5th), Madison Shoemaker (6th), Corinna Papps (13th) and Heather Garcia (19th) won medals for the Baldwin girls, who scored 70 team points, good for a 30-point margin over runner-up Wamego.
Copyright 2018 The Lawrence Journal-World. All rights reserved. This material may not be published, broadcast, rewritten or redistributed. We strive to uphold our values for every story published.