Ben Elton's "Popcorn," directed by Ron Willis, received a spirited production at KU's Crafton-Preyer Theatre Friday night. The audience had been warned of the sex, violence and blue language - two of these three lie at the heart of "Oedipus Rex" - and none were seen leaving at intermission.
In the play, a Hollywood director's celebration of the Oscar he has received for "Ordinary Americans," his paean to mass murder, is interrupted by the appearance in his home of Wayne and Scout, actual mass murderers. Suddenly, life imitates art, and it's not as much fun in the living room as it was on the screen. The director's wife and daughter, his producer, his date for the night, and a two-person TV crew all become involved in the ongoing situation.
Opening-night jitters led to rushed lines in the first act, with Will Paulson as Bruce the director, Brandon Ford as Karl the producer, and Alyson Cripps as Farrah, Bruce's wife, all sounding hurried and a bit shrill. Ford's elegant bearing seemed somewhat at odds with the coarseness of Karl's character. Paulson's demanding role had to (and did) convey Bruce's shallowness, but there was little nuance in his style, with most lines spoken in exclamation points. Cripps' Farrah, at first stagily self-absorbed, took on weight and depth when threatened with violence.
The "Mall Murderers," Wayne (Dale Buchheister) and Scout (Val Smith), made a perfect deranged pair, and clearly energized each other's performance throughout the play. Buchheister delivered Wayne's wiser-than-life comments on American society with a completely credible offhand sneer. Smith gave an intense, funny but chilling performance as his petite sidekick Scout, giggling excitedly at his murderous assertions but cautioning him against getting the furniture dirty or swearing on television.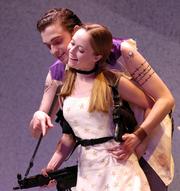 Courtney Schweitzer was at home in her role as Velvet, Bruce and Farrah's daughter. From her first put-down of her father's pomposity ("Please, Dad, I just ate lunch") to her touching efforts to care of a shooting victim, she made the part authentic.
Kate Giessel as Brooke, the Playboy model ("I was never a bunny ... I was a centerfold") gave the evening's most powerful performance, from a cocaine-fueled striptease in Act I to suffering so real in Act II that it drained all the fun out of the killers' swagger. Lara Thomas and Jordan Clark were entirely believable as the terrified television crew.
Robbie Jones' fine set was a Hollywood home, all black and white and brushed aluminum. Jones also ably designed costumes and make-up. Eric Avery's choreography and movement coaching added depth to the characters' personalities.
Past Event
When: Sunday, October 30, 2005, 2:30 p.m.
Where: Crafton-Preyer Theater, Murphy Hall, 1530 Naismith Dr., Lawrence
Cost: $10 - $16
-->
-->
Ron Willis' direction makes it clear that the play poses the question, "Who is responsible for our society's fascination with sex and violence?" and that there is no simple answer. In fact, part of the playwright's message is that the audience watching and enjoying his violent play bears part of the responsibility.
Yet Samuel Johnson pointed out in "The Preface to Shakespeare" (1765) that we enjoy such things because of "our consciousness of fiction: If we thought murders and treasons real, they would please no more." Are we debased by the works we see? John Milton, in "Areopagitica" (1644), points out that we bring our own inclinations to them: "Ye cannot make them chaste that came not thither so" (nor, presumably, the reverse). Willis hopes that audiences will be moved to discuss such issues after seeing the play.
Copyright 2018 The Lawrence Journal-World. All rights reserved. This material may not be published, broadcast, rewritten or redistributed. We strive to uphold our values for every story published.