The new Medicare drug program has millions of people wondering what they should do to take advantage of the gigantic program.
And people in Lawrence are answering their questions, following more than 600 scripts at a time.
Pearson Government Solutions, which operates a sprawling call and data center in the East Hills Business Park, is the prime contractor for 1-800-MEDICARE, a help line for the federal program.
And with the drug program's enrollment set to begin Nov. 15, center officials know phone lines will be plenty busy as seniors and other Medicare-eligible Americans across the country continue their search for helpful, consistent and worthwhile advice.
"That's our D-Day. We'll have everybody in here," said Chris Kincaid, a mid-level supervisor. "We are prepared. We will have the tools in place. We will have the right individuals here to do the work.
"We're going to be successful."
Pearson employees - from those on the front lines up to the president and chief executive officer - consider such a can-do attitude to be business as usual at the center in East Hills, which ranks as the company's largest center and whose 1,900 employees make it the city's largest private-sector employer.
Company officials have spent recent months ramping up hiring, emphasizing training and refining scripts and other resources to make the most of the 1-800-MEDICARE service, part of a contract granted two years ago by the federal government.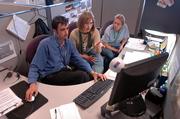 Pearson Government Solutions - a division of Pearson Plc, a London-based media conglomerate - has 5,000 employees in six countries, generating $500 million in revenue. The Lawrence center handles more than 30 projects, including work for the U.S. Department of Education, the Equal Employment Opportunity Commission and the Immigration and Naturalization Service.
Adding employees
Michael Bowers, the division's senior vice president and general manager for public health care, said Pearson would continue to rely on 1,800 to 2,000 "core" agents to handle the bulk of 1-800-MEDICARE work, and that Lawrence would be the hub for the bulk of the 1-800-MEDICARE services.
"But we'll be adding upward to 5,000 total, additional agents to answer these kinds of calls," Bowers said, during a visit last week to the Lawrence center. He said that the increases would include temporary workers and others hired through subcontractors.
All employees working on the program receive specialized training, so that answers provided to callers are consistent and informative, he said.
"What we don't want to do is have service agents freelancing - that they get a question and say, 'Oh, I don't know. But it could be this or could be that.' You call one agent one day and get one answer, and call another agent another day and get a different answer," Bowers said.
Agents are trained to take calls, listen to questions and then search the company's database - compiled under the guidance of Medicare officials - for appropriate answers.
Complicated matters are referred to a "second tier" of agents, who have more experience or expertise, he said. Anything unable to be answered by that point is then referred to a reference desk, so that an answer can be formulated and relayed back to the caller.
'That's our lifeblood'
Mac Curtis, president and CEO of Pearson Government Solutions, said that Pearson employees in Lawrence and elsewhere already were plenty passionate about providing helpful assistance to callers.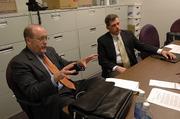 Now, as the 1-800-MEDICARE rush is poised to begin, he expects their focus and preparation to pay off.
"It's not going to be without its challenges, and we understand that, but this is what we do," said Curtis after meeting with employees last week at East Hills. "It's tough, mission-critical programs. The government's got to get the information to its citizens, and that's our lifeblood."
Jeremy Heyer says he's up to the challenge. The call center supervisor spent time last week training fellow Pearson employees in the 1-800-MEDICARE protocols, and knows that the work is important.
As he worked last week with service representatives Carrie Snyder and Kristen Murphy, Heyer couldn't help but reflect on the service already provided - and the information yet to be dispensed.
Every week, he said, agents hear from dozens of callers looking for help. And when a solid connection is made, all the training, preparation and persistence works wonders.
"When you know you've been helpful," he said, "that can make all the difference."
- Business editor Mark Fagan can be reached at 832-7188.
Copyright 2018 The Lawrence Journal-World. All rights reserved. This material may not be published, broadcast, rewritten or redistributed. We strive to uphold our values for every story published.