Alameda, Calif. — Oakland Raiders cornerback Charles Woodson stands a fair chance of playing again this season as long as his recovery from the broken right fibula that he sustained Sunday goes as well as hoped.
However, it seems just as likely that Woodson has played his last game for the Raiders this season, and perhaps forever.
Coach Norv Turner said Monday that Woodson "realistically" would be out eight weeks. That would get Woodson back in time for Oakland's 14th game, against the Cleveland Browns on Dec. 18.
Woodson, 29, has a one-year contract that guarantees him $10.537 million this season as the team's franchise player. He will have earned more than $19 million the past two seasons under that designation.
His uncertain status beyond this season brings about the possibility of Woodson shutting it down the rest of the season so he can protect himself for what lies ahead.
Woodson likely would return as soon as possible if the Raiders get back into playoff contention and have something to play for the final month of the season. Yet, why risk further injury if the only thing at stake in his playing meaningless games is his future earning power?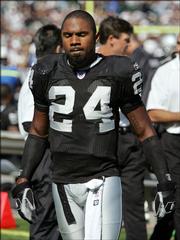 "I don't think so," Turner said, when asked if Woodson had played his last game as a Raider.
It bears noting that Woodson missed Oakland's final three games last season after sustaining a hip or knee injury-depending upon whom you ask-against the Atlanta Falcons on Dec. 12. He made it back for the playoffs in the 2002 season only 19 days after undergoing surgery on his right leg.
No one is questioning Woodson's desire and commitment. It's just that he has to look out for his long-term well-being, especially given Oakland's reticence toward giving Woodson the long-term contract he has sought in recent years.
Once again, the Raiders are faced with three options, and none of them is attractive.
They can slap the franchise tag on Woodson again, thus ensuring Woodson a one-year contract for 120 percent of his 2005 salary, or $12.644 million.
Not likely. The Raiders had misgivings about using the franchise tag on Woodson this season because it would cost them almost one-eighth of their salary cap. Now they are faced with paying an injured player $619,823 for every game he doesn't play.
To put that into context, Woodson is earning almost as much for each week of the season as the combined 2005 base salaries - $690,000 - of rookie cornerbacks Fabian Washington, Stanford Routt and Chris Carr.
Another option is for the Raiders to give Woodson the long-term deal he desires. Again, not likely. Woodson has said he wanted to be the highest-paid cornerback in the league.
"That's important to anybody who plays this game, to have a long-term (deal)," Woodson said during training camp. "But the simple fact of it is, it's a one-year deal, it's great money, so I can't complain there. All I can do is go out there and take care of my business and whatever happens will happen."
Oakland's refusal to accede to Woodson's wish shows they're leery of investing so much in a player who has not made the Pro Bowl since the 2001 season and has endured numerous serious injuries throughout his eight-year NFL career.
The most likely scenario goes something like this: The Raiders let Woodson enter free agency in March and hope he discovers the market for his services aren't what he is led to believe by his agent, Carl Poston, and the two sides strike a deal suitable to both parties.
"I just play the game of football, so it really doesn't matter if I play here in Oakland or anywhere else." Woodson said during training camp. "Play this year and see what happens next year."
Copyright 2018 The Lawrence Journal-World. All rights reserved. This material may not be published, broadcast, rewritten or redistributed. We strive to uphold our values for every story published.