STILLWATER, OKLA. — Listing off ways that Oklahoma State could pull off a gigantic upset against No. 2 Texas this week, coach Mike Gundy came to an old standby of coaches dreaming of victory against a tough opponent.
To have a chance, he said, coaches need to come up with a viable game plan, the Cowboys (3-4, 0-4 Big 12) need to play hard and, finally, they need to create some turnovers. In other words, the Cowboys need to excel in an area that has devastated their chances to win in each of their last two games.
"It's hard to say that we have to eliminate turnovers when we've got so many turnovers in the last few weeks," Gundy said.
The Cowboys have turned the ball over 12 times in their past two games -- losses at Texas A&M; and Iowa State -- and rank last in the Big 12 in turnover margin at minus-9. Only three Division I-A teams have a worse overall margin, and only five have a worse per-game turnover margin than Oklahoma State's minus-1.29.
Much of the Cowboys' success during a 7-5 season and Alamo Bowl appearance last year rested on their ability to create takeaways while keeping the ball secure on their end. Only national champion Southern California had a better turnover margin (plus-19) last season than Oklahoma State (plus-17).
Gundy says the Cowboys' new no-huddle, spread offense isn't to blame for the change. He said some fans have suggested a return to the I formation with two tight ends that the Cowboys used with success the past few seasons. However, Gundy says about three-quarters of quarterback Al Pena's nine interceptions have come when Oklahoma State was in the I.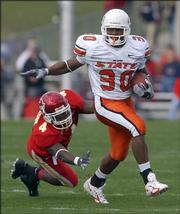 "Some of his interceptions were based on a throw that didn't have anything to do with what we were doing," Gundy said. "It just didn't work out for us."
Pena, who took over as quarterback when starter Bobby Reid was injured in the fourth quarter against Missouri on Oct. 8, has thrown eight interceptions in his two starts. He's also fumbled twice.
"The throws he's made have been errant throws, they haven't been bad decisions," Gundy said. "It's a big difference. ... His decision-making process is good. It's just the actual throws."
It's possible Reid could return to play for the Cowboys against Texas (7-0, 4-0) on Saturday. Either way, the Cowboys don't intend to make any changes to their offense to limit the turnovers.
"We're not going to go into a shell and not play football and not be aggressive on offense. We're not going to do that," Gundy said. "At times, I think coaches become impatient and say, 'All right, that's enough. We're going to do this. At least we're not going to turn it over.'
"That's not what we're about here, and we're not going to do that offensively. We're going to give ourselves a chance to win."
Copyright 2018 The Associated Press. All rights reserved. This material may not be published, broadcast, rewritten or redistributed. We strive to uphold our values for every story published.