Houston — The Chicago White Sox's run to a championship truly began two years ago.
That's when Ozzie Guillen, then Florida's third-base coach and groggy from a World Series celebration, met with Chicago general manager Ken Williams for a job interview.
If Williams expected a polite, head-nodding spiel from the former White Sox shortstop, he'd never been so wrong.
Not soon after they sat down, Guillen was arguing with Williams, challenging his questions. Two hours after the interview, Guillen had the manager's job. Two seasons later, the White Sox had their long-awaited championship, their first since 1917.
"You sit down and argue with the general manager when you're trying to get hired, you got to have some gumption," Williams said.
Led by their talkative and charismatic manager, the White Sox had plenty of gumption and enough of everything else this season. They had power when they needed it - Scott Podsednik and little-used utility player Geoff Blum had rare homers in the World Series. They also mixed in speed, defense - shortstop Juan Uribe personified it by making three stellar plays in Game 4 - and solid pitching.
They held off a late-season fade that threatened to keep them out of the playoffs when a 15-game lead in the AL Central almost got away, and actually got stronger because of it. They won 16 of their final 17 games and went 11-1 in the postseason, including 6-0 on the road. Now, the plan is to stay on top.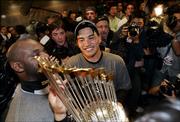 "I want to be back here," Williams said before a 1-0 victory over Houston on Wednesday night clinched a four-game sweep. "What we do is with the mindset of being on this stage."
Williams was busy last offseason after Guillen asked him to change the team with more emphasis on speed. Leadoff hitter Podsednik, World Series MVP Jermaine Dye, get-on-your nerves catcher A.J. Pierzynski and Japanese second baseman Tadahito Iguchi all were added.
"Kenny Williams showed me on paper what the makeup of this team would be like. I always know that from being around this game, pitching and defense wins," Dye said, reflecting on his choice to come to Chicago.
"I knew our starting pitchers and bullpen had the capability to go out there and shut teams down. I knew with our offense we were good. From the start of spring training everyone was hungry, everybody's pulling on the same rope."
Now Williams has some work to do again this offseason, most notably re-signing free agent first baseman Paul Konerko, the MVP of the AL championship series who hit five postseason homers after having 40 and 100 RBIs in the regular season. Jon Garland, an 18-game winner, steady fielding third baseman Joe Crede and Pierzynski all have contracts that expire.
And Williams also will have to decide what to do with veteran Frank Thomas.
Thomas, 37, hit 12 homers in 105 at-bats before a broken bone in his foot sent him to the sidelines for good. He has a player option in his contract for 2006 - but if he exercises it, the team has the right to turn it down and pay a $3.5 million buyout.
The pitching appears solid for years to come and was never better than in the AL championship series when starters Mark Buehrle, Garland, Freddy Garcia and Jose Contreras threw four straight complete games against the Angels. And the White Sox found their closer in 270-pound rookie Bobby Jenks, who pitched in all four World Series games, saving two. Not bad for a waiver pickup last December.
But before Williams gets back to work next week, the White Sox will celebrate in a city hungry for a baseball title.
The Williams-Guillen partnership that started on a rocky note has prospered. Williams found himself in damage control mode at times this season when Guillen would make an outrageous comment that needed explanation.
Copyright 2018 The Associated Press. All rights reserved. This material may not be published, broadcast, rewritten or redistributed. We strive to uphold our values for every story published.