Perry — Tonganoxie High football coach Mark Elston stood nervously on the sideline awaiting the field goal attempt.
"I'm not Catholic and I was saying Hail Marys and rubbing beads," Elston said with a smile.
And when Cory McPherson's 26-yard attempt went wide left, Elston - and the rest of the Chieftains - jumped in the air because the miss assured Tongie's 24-21 overtime victory over Perry-Lecompton Thursday night.
"That was a great high school football game," Elston said.
"It was everything everyone thought it would be - a great game," echoed Perry-Lecompton coach Mike Paramore.
Minutes before McPherson's miss, Jeff Hughes' 26-yard field goal had given the Chiefs a three-point lead after they had blown an eight-point advantage with less than two minutes to go in regulation.
The Kaws, hoping to post an undefeated regular season for the first time in 25 years, staged an improbable comeback to forge the 21-21 deadlock.
With 1:59 remaining, Tongie led 14-13. Eight seconds later, with the Kaws backed up on their own five, Tongie's Phil George stripped McPherson, Hughes picked up the loose ball and scooted four yards into the end zone.
Photo Gallery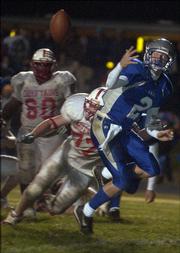 Tonganoxie vs. Perry-Lecompton 10-27-05
Suddenly, the Chiefs were ahead 21-13 and it appeared the Kaws were doomed.
But Caleb Denton returned Hughes' kickoff 22 yards to the Tongie 42, and the Kaws needed only six plays to score as quarterback David Foltz hit wide receiver Daniel Hemme for 17- and 13-yard passes, then swept left end for the final four yards with :39 on the clock.
Moments later, Foltz connected with Sean Blosser on a two-point conversion to force the overtime.
"We knew we were up against it," Foltz said of that last-ditch drive. "We knew it had to be done, and we did it."
Elston watched helplessly as the Kaws scored by using up only a little more than a minute on the clock.
"Give them credit," the Chieftains coach said. "They could have folded their tent."
Tent-folding, Paramore stressed, is not a part of the Perry-Lecompton High curriculum.
"Our kids played their guts out. That's the kind of kids we've got," the Kaws coach said. "They went out there and said let's go find a way."
Two of Tongie's touchdowns came after fumbles - the late strip for the cheap score and a 26-yard drive after McPherson had muffed a punt.
"They took advantage of our mistakes, and that's a sign of a good football team," Paramore said. "Hats off to them."
At stake in the final regular-season game was a home berth in the Class 4A playoffs since both teams had already qualified. Thus Tongie will play host to Kansas City Ward next Tuesday while Perry-Lecompton (8-1) will travel to Lansing.
Lansing spilled Ward, 26-7, Thursday night.
"This is still a good football team," the Kaws' Foltz said, "and we're going to take our shot."
Perry-Lecompton will be making its first appearance in the playoffs since 1999. Tongie, meanwhile, finished the regular season 8-1 for the third straight year.
Tonganoxie 24, Perry-Lecompton 21, OT
Tonganoxie - - 0 - 0 - 7 - 14 - 3 - - 24
Perry-Lecompton - 0 - 0 - 13 - 8 - 0 - - 21
P-L - Cory McPherson 9 run (McPherson kick)
T - Daniel Volk 4 run (Jeff Hughes kick)
P-L - Daniel Hemme fell on fumble in end zone (McPherson run failed)
T - Thomas Hopkins 4 pass from Hughes (Hughes kick)
T - Hughes 4 fumble return (Hughes kick)
P-L - David Foltz 4 run (Sean Blosser pass from Foltz)
T - FG Hughes 26
Copyright 2018 The Lawrence Journal-World. All rights reserved. This material may not be published, broadcast, rewritten or redistributed. We strive to uphold our values for every story published.