Tonganoxie — Nothing was going to stand in the way of Tonganoxie residents properly honoring the memory of fallen soldier and resident Lucas Frantz on Thursday.
More than 300 U.S. flags lined the four-mile route to the cemetery, and a crowd estimated at 400 people attended the memorial service for the 22-year-old U.S. Army specialist who was killed Oct. 18 while serving in Iraq.
The crowd also successfully ignored about a dozen protesters who were followers of Topeka minister Fred Phelps. Phelps' followers, with the Westboro Baptist Church, have claimed God is on the side of terrorists.
Community members installed an approximately 10-foot high banner that blocked the view of the memorial site from protesters.
"We completely ignored them," said Larry Meadows, post commander for the Tonganoxie Veterans of Foreign Wars. "As far as I'm concerned, they didn't even show."
Photo Gallery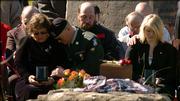 Lucas Frantz's funeral
About 200 veterans riding motorcycles attended the funeral as counterprotesters, said Tonganoxie Police Chief Kenny Carpenter. Carpenter said he had about 30 law enforcement officers from his police department, the Leavenworth County Sheriff's Department and the Kansas Highway Patrol on site. He said officers did not have to respond to any incidents.
Meadows said he was proud of the community's efforts and thought it was a fitting memorial for the beloved 2002 Tonganoxie High School graduate.
"We felt like as VFW members and as citizens of the community, this was a small thing we could do," Meadows said. "The young man who lost his life gave the big thing."
Copyright 2018 The Lawrence Journal-World. All rights reserved. This material may not be published, broadcast, rewritten or redistributed. We strive to uphold our values for every story published.