Peyton Manning used to wonder about his little brother. Eli was almost too easygoing, too loose when it came to football. The kid didn't like watching film the way his older brother did. He wasn't as inquisitive, either, and seldom seemed stressed. Friends called him Easy E.
Believe this: Nobody ever called Peyton Easy P.
"I could tell you every quarterback in the SEC for the last 20 years," Peyton once said. "We had to teach Eli the 12 teams in the SEC before he went to Ole Miss."
But Eli's cool-under-pressure personality, his tendency never to get too high or low, is serving him well now that he's starting to hit stride as second-year quarterback of the New York Giants.
Through seven games, he has 12 touchdown passes - one more than Peyton - and has been calm as a Buddhist monk, especially in the early going, with five touchdowns and no interceptions in the first quarter.
Of course, just about everyone in New York is talking about Manning's spectacular finish Sunday, when he capped a dramatic fourth-quarter comeback against Denver by driving his team 83 yards and throwing a two-yard touchdown pass with five seconds to play for a 24-23 victory.
Watching from second-row seats at that goal line were Archie and Olivia Manning, who held their breath as their youngest son dropped back, back, back before connecting with Amani Toomer.
"He just kept backpedaling," said Olivia, reliving the moment. "The only thing I could think was, 'What are you doing?' "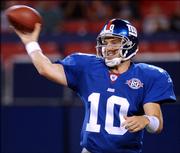 Archie, who had a TV camera directly in front of him, was bobbing to get a better view. As a former NFL quarterback, he understands the kind of pressure Eli was under to make a split-second decision, to find a hole in the defense and rocket a pass into it.
"It's hard to watch that," he said. "I know how tough it is."
The way Archie sees it, Eli has the ideal personality to play in New York "because, a) he doesn't have a big ego, and b) he doesn't read the papers or watch TV."
Now, a lot of people in San Diego might argue that Manning's ego is the reason he isn't playing for the Chargers. Manning embarrassed himself in the 2004 draft, when he threatened to go back to school if the team made him the No. 1 pick, then sulked when they did. About an hour later, he was traded to the Giants.
That was the lowest point in his short NFL career, and Sunday's victory was the highest. True to form, though, he looked like the same sleepy-eyed kid in both situations. It's that sort of even keel that could lead to great success as a pro.
"There are still going to be some hiccup Sundays for him," Archie said. "But he's on schedule and steadily improving. : The worst thing that can happen to a young quarterback is he gets abused so bad (by the media and fans) that he can't play. But the second-worst thing that can happen is he'll win a big game and start thinking it's easy. Eli knows it's not."
¢ He's the poster boy for undersized players, but Miami linebacker Zach Thomas - all 5-foot-11, 228 pounds of him - leads the NFL in so-called impact tackles.
According to STATS LLC, which keeps track of such things, Thomas has a league-leading 281â2 tackles made for gains of two yards or fewer, including sacks. The next-closest players are Kansas City's Jared Allen with 21 and Pittsburgh's James Farrior with 20.
¢ Oakland is in last place in the AFC West and has yet to win on the road. But the Raiders should be pleased with something: Their off-season acquisitions have worked out well. Ex-Viking Randy Moss has been explosive when healthy; ex-Jet LaMont Jordan ran for 122 yards in a victory over Buffalo on Sunday; and ex-Eagle Derrick Burgess already has seven sacks - 11â2 fewer than his total from his last four seasons in Philadelphia.
¢ In an effort to boost sagging morale in their fan base, the 49ers had defensive tackle Bryant Young record a phone message that was sent to season-ticket holders. In the message, he encouraged them to create a sea of red Sunday for the first-ever Red Fog Day. The 49ers host the Tampa Bay Buccaneers, who should feel right at home - their fans wear red too.
That's a detail that should leave the 49ers, well, a little red in the face.
Copyright 2017 The Lawrence Journal-World. All rights reserved. This material may not be published, broadcast, rewritten or redistributed. We strive to uphold our values for every story published.