A few months ago at a Lawrence house party, Cameron Hawk was taking a break from performing original material by strumming through some Neil Young covers on his acoustic guitar.
"After that, I was talking about how much fun it was," recalls Hawk, frontman of Lawrence rock quartet Dead Girls Ruin Everything. "A couple of people were like, 'You should do an actual Neil Young tribute night with a bunch of bands.'"
Hawk has finally answered that call.
His group will join Lawrence acts Ghosty, Julia Peterson and the Breaks, The Belles and This Is My Condition at Saturday's Neil Young Tribute Show.
"Every band that I asked was really into it," says Hawk, who considers Young one of his "all-time favorites."
"He has a way of taking something really simple that anybody could play and making that completely his own. I think the voice has a lot to do with it, just because nobody sounds like him. Lyrically, and the way he puts his songs together, he's completely unique."
The live tribute was originally going to be centered around Young's 60th birthday on Nov. 12, but the date had already been booked with another headliner. So instead, the collective ended up with a Halloween weekend slot at The Bottleneck, 737 N.H.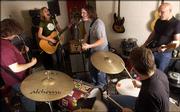 "It's basically going to turn into a costume thing - not necessarily a Neil Young costume night," Hawk says.
However, he does offer advice to those wishing to dress up like the Toronto-born legend.
"If you didn't have the ability to grow sideburns, you'd have to wear fake sideburns all the way down to your chin," he suggests. "You'd have to have some gray in your hair. Maybe some peace-sign necklaces."
Musician Julia Peterson jumped at the chance to take part in the tribute, which gives each act an opportunity to showcase between five and seven of Young's compositions.
"I don't want to sound like an obsessive fan, but he's my favorite songwriter," Peterson says. "Part of it was growing up and listening to my dad's rock and roll music. He was the first songwriter that I understood and related to. It's part of my childhood and part of growing up."
In addition to her own set of "a little bit country and a little bit rock and roll" interpretations, Peterson will join Dead Girls Ruin Everything onstage.
Past Event
Featuring Julia Peterson and the Breaks / Dead Girls Ruin Everything / The Belles / This Is My Condition / Ghosty / More TBA
When: Saturday, October 29, 2005, 10 p.m.
Where: The Bottleneck, 737 New Hampshire, Lawrence
Cost: $5
-->
-->
"We're gonna be doing the version of 'Helpless' that The Band did for 'The Last Waltz,' with Joni Mitchell singing the background vocals," explains Hawk, who also backs Peterson in the Breaks. "We're gonna have Julia singing Joni's part with us."
With so much adoration for the acclaimed Young, Hawk thought it might be a difficult task to coordinate what band got to perform which song. But after sending out e-mails to each artist, the responses came back revealing no duplications.
"It's surprised me some of the songs people have picked," he says. "There are a lot of real obscure ones - probably 10 or so that people might not know off the bat. Then there are some really huge hits, like 'Cinnamon Girl,' that no one is playing."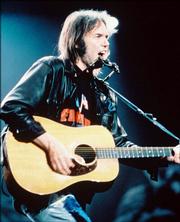 Likewise, if one asks any of the performers involved in the event to name their favorite Young song, the answer is inevitably different.
Belles guitarist-singer Chris Tolle says, "For me it's like, 'What's your favorite Beatles song or Elvis Costello song?'
"Neil's catalogue is too varied and too deep. But today it's 'Albuquerque' from 'Tonight's the Night.' I love the feel of it. The words are right on: 'I've been flyin' down the road / And I've been starvin' to be alone.' Even despite the 'fried eggs and country ham' lines, it's all real Neil."
Peterson adds, "My favorite Neil Young song changes all the time, but this week it's 'I Believe in You.' I've been listening to it so long. And you know how when you go through different things, the meaning often changes. It's the one that I relate to the most right now."
Copyright 2018 The Lawrence Journal-World. All rights reserved. This material may not be published, broadcast, rewritten or redistributed. We strive to uphold our values for every story published.