In the wake of hurricanes Katrina, Rita and Wilma, the Lawrence school district is weathering a different kind of storm: one that involves the rising cost of labor and materials.
The district is preparing to begin its largest construction project in years: rebuilding South Junior High School, 2734 La., and building additions to all the other junior high and high schools in the district. But officials worry that reconstruction efforts in New Orleans and the Gulf Coast will drive up the cost of construction here.
"As we move forward, our construction manager is starting to hear some things from suppliers about shortages of drywall and those sorts of things," said Tom Bracciano, director of facilities and operations for the Lawrence school district. "The rumbling is that we could see cost increases of up to 20 percent."
Gary Christian, owner of Hy-Tech Crack & Concrete Repair, 757 U.S. Highway 40, said he's already seeing the cost of certain materials climb.
"I've got a feeling that we haven't seen the brunt of it yet," Christian said.
He predicts supplies such as lumber and concrete will be shipped from the Midwest down south, where demand is greater. And once reconstruction really picks up, Christian expects to see workers flock to the area, too.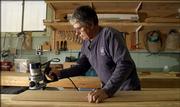 "It's hard enough to find anyone who wants to work - or who can physically do this job. As time goes on, there's no doubt in my mind there's going to be people going down there to get a piece of the action," Christian said. "Plenty of work to be done."
The school district usually builds contingency funds into a project, to cover unforeseen costs, but Bracciano said three back-to-back devastating hurricanes is not something they could have planned for.
In anticipation of a cost increase, Bracciano said the district is developing alternate construction plans, trying to decide which corners it can afford to cut.
"Maybe you wouldn't do a classroom here or a classroom there. One of our other plans is looking at other possible ways of financing the projects."
Bracciano said any changes to projects would be small.
"We told people what we're going to do and our commitment is to do that," he said.
Voters approved the $54 million dollar bond issue, which will pay for new construction in the district, in April.
Copyright 2018 The Lawrence Journal-World. All rights reserved. This material may not be published, broadcast, rewritten or redistributed. We strive to uphold our values for every story published.