Blacksburg, Va. — The taste of Beamerball didn't come until late, and only to provide a punctuation mark on another Virginia Tech victory.
Even without the big plays that are the Hokies' hallmark, No. 3 Virginia Tech dominated again, beating No. 13 Boston College, 30-10, Thursday night.
Marcus Vick got back to being efficient, throwing for 280 yards and a touchdown with no turnovers, and the Hokies' defense made Boston College's massive offensive line and high-powered attack look pedestrian, holding them to 183 total yards.
"We feel that's what we're supposed to do," cornerback Jimmy Williams said. "We love to play defense. We love to go out there and get three-and-outs."
The victory, Virginia Tech's 11th in a row in Thursday-night play, was highlighted by one of those three-and-outs, which was sandwiched by Hokies touchdowns.
The first TD, on Eddie Royal's 15-yard reverse, gave Virginia Tech the lead back. The second came on Vick's three-yard pass to Josh Morgan and surely made the task look that much more imposing for the Eagles (6-2, 3-2), putting them behind 20-7 at halftime.
"I just told the guys that we're going to be OK," Vick said of the brief period -- and first this year -- when Tech trailed at home. "We drove down the field there a couple of times and couldn't get it in. All of a sudden, we just started executing."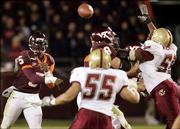 The defensive stand in the middle, Williams said, was Hokies football at its best.
"It lets opposing teams know that it's not going to be easy and just because you're up right now doesn't mean it's going to stay that way," he said.
Vick had a big part in all of it, completing 22 of 28 passes a week after throwing three interceptions in a 28-9 victory at Maryland. Brandon Pace added three short field goals for the Hokies, who last lost a Thursday night game in 1995, also to BC.
The Eagles got them then, 20-14, but were practically pushed around this time.
Boston College came in allowing just 78 rushing yards per game, fourth best in the country, and the Hokies got 212 using a backfield by committee. The Eagles were seventh in overall defense, allowing just 272 yards per game, and the Hokies rolled up 492 as the former Big East members renewed their rivalry in the ACC.
Copyright 2018 The Associated Press. All rights reserved. This material may not be published, broadcast, rewritten or redistributed. We strive to uphold our values for every story published.