In Japanese, there is only one word for drawing and writing.
On traditional scrolls from the country, paintings and poetry often occupy the same swath of silk. And the artists typically used the same brush to create both.
The two art forms are so inextricably linked that the language doesn't distinguish them.
A show opening this evening at Signs of Life explores that bond in Western art. "Poetry and Art: The Intuitive Connection" features 15 artists and will be on view through Jan. 21.
Gallery director and painter James Schaefer stumbled upon the idea for the show while sifting through a box of poetry books and photographs by Jeremy Botts, son of gallery artist Timothy Botts. He began to notice that verse and visual art work in similar ways.
For instance, in the same manner that a poem can use few words to create an intense encounter with things richly textured and physical, he says, sprezzatura brushwork can describe an orange with half a swirl of paint.
"When a poem made me alert again to common things often overlooked, I thought of the way poetry and painting share a suggestive capacity, being able to make the familiar fascinating again through concentration and unexpected associations," he says.
"This is the work of metaphor, keeping me involved and interacting with what is right before me while creating room in my thoughts for something beyond."
Photo Gallery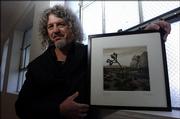 "Poetry and Art"
View the full-size photos to hear audio commentary about works in the show.
Noisy paintings, airy poems
Visitors to the gallery won't find paintings hanging next to poems that inspired them. For the most part, the connections are looser and more organic than that.
Baldwin artist Rodney Troth, for example, has been painting landscapes here and in Wabaunsee County for about 30 years. His inspiration comes directly from his subject: the rolling hills, majestic vistas, flat plains and dramatic skies of Kansas.
Yet he feels something poetic in the process.
"Words make sort of lyrical sounds," he says, "and somehow I've always related the lyrical vision of poetry to painting. I've never made any intellectual connection - like this group of words mean this, so my paintings mean this. I'm totally oblivious to that kind of stuff. It's more shape and placement and sound."
Though it may seem odd to talk about the way a painting sounds, it's precisely such descriptions that illuminate the relationship between poetry, art and other art forms, says Beth Schultz, professor emerita of English at Kansas University.
"It's very interesting that words like rhythm apply to poetry, painting and music," she says. "Not one of these genres can say that they own image or that they own rhythm. It's very interesting to think of a painting making noise or of poetry conveying light or space."
'Poetry and Art'
When: Opens with a reception from 7 p.m. to 10 p.m. today; remains on view through Jan. 21 Where: Signs of Life gallery, 722 Mass. Hours: 10 a.m.-10 p.m. Monday-Wednesday; 10 a.m.-10 p.m. Thursday-Saturday Info: 830-8030
Schultz, a Herman Melville scholar who has long studied the profusion of artwork inspired by the author's most famous novel, "Moby-Dick," will give a gallery talk on Dec. 3. She says the interplay between words and pictures sparks a creative crucible that has been important to artists and poets in the Eastern and Western worlds for centuries.
Indeed, artists have interpreted biblical passages on canvases and church walls. And America's abstract expressionist painters were influenced deeply by the spare language of poetry; a California art critic writing about a posthumous exhibition of works by Robert Motherwell acknowledged the tie: "With an economy of style that resonates with passion, his work is to visual imagery what haiku is to lyrical poetry."
All things connected
More than a decade ago, Lawrence photographer Rick Mitchell started a photographic journal, dedicated to making at least one photo daily and writing about the images he created.
He explains that he's not interested in photos so much as instruments of documentation, but rather as vehicles that transport the viewer to another state of mind - much like poetry uses evocative language to conjure images beyond the words on a page.
Past Event
When: Friday, October 28, 2005, 7 p.m. to 9 p.m.
Where: Downtown Lawrence, Lawrence
Cost: Free
-->
-->
In his shots of Rock City in Minneapolis, Kan., a beach house in Massachusetts, a Lawrence alley or a windswept Joshua tree in southern California, Mitchell's goal is poetic transcendence.
In "Poetry and Art," viewers won't be given any guidance about the artists' intentions.
"It's going to be every man for himself," Mitchell says, chuckling.
As gallery director at the Lawrence Arts Center, patrons often ask him how to look at art. It's not a lot different from reading poetry. The artist or the writer starts a conversation, Mitchell says.
"The artist says something interesting or thought-provoking or evocative or provocative, and it leaves you in a position of thinking, 'Well what do I think about that?' or 'What can I say about that?' or 'Would I prefer not to say anything about that?'"
Whatever the conclusion, Schultz is sure that thinking about these issues helps us understand that our lives are never completely independent of history and cultural forces.
"Looking at the relationship between poetry and the visual arts or the visual arts and poetry," she says, "is a very dramatic way of thinking about the interconnectedness off all things"
Gallery Walk schedule
The Downtown Friday Gallery Walk runs from 7 p.m. to 9 p.m. today at the following Lawrence venues: ¢ Diane's Artisan Gallery, 801 1/2 Mass., Suite C, 856-1155, featuring the jewelry of Cindy Jankovich and weaving by Diane Horning. ¢ Fields Gallery, 712 Mass., 842-7187, "Event Participant V" and artwork by Diana Dunkley, in conjunction with "Convergence 2005." ¢ It's About Time, 816 Mass., 842-1500, featuring a poster signing by Constance Ehrlich, recipient of the Featured Artist Award in the 2005 Lawrence ArtWalk. ¢ KOJO, 745 N.H., 841-5656, featuring iron works by Kate Dinneen. ¢ Lawrence Arts Center, 940 N.H., 843-2787, featuring "Convergence," Canadian and U.S. women artist's exhibition. ¢ Lawrence Public Library, 707 Vt., 843-3833, featuring "Connected Community," a student art collaboration and artwork by "Convergence 2005" artists. ¢ Olive Gallery and Art Supply, 15 E. Eighth St., 331-4114, featuring "The Walking Undead: 2 Legit 2 Quit," new prints by Patrick Giroux, Rachel James and Adam Jeffers. ¢ Phoenix Gallery, 919 Mass., 843-0080, featuring artwork by Jan Gaumnitz and Cathy Tisdale, in conjunction with "Convergence 2005." ¢ Signs of Life Gallery, 722 Mass., 830-8030, featuring "Poetry and Art: The Intuitive Connection," a group show, including local artists Rick Mitchell, Rodney Troth, Mary Clinkenbeard and Heather Smith Jones. ¢ Silver Works and More, 715 Mass., 842-1460, featuring KU graduates of the metalsmithing/ jewelry department Jim Connelly, Ron Hinton and Fred Scott. ¢ Southwest and More, 727 Mass., 843-0141, featuring works by Dolores Corcoran and Ann K. Cobb, in conjunction with "Convergence 2005."
Copyright 2018 The Lawrence Journal-World. All rights reserved. This material may not be published, broadcast, rewritten or redistributed. We strive to uphold our values for every story published.