Washington — The White House reeled from the abrupt withdrawal of Harriet Miers' Supreme Court nomination Thursday and moved quickly to name a replacement, identifying a leading candidate by day's end and preparing for a swift announcement, according to several sources close to the process.
Facing political fallout from the nomination of Miers, who was attacked as an unimpressive figure with little background in constitutional law - and also confronting the possible indictments of high-level officials - the White House was planning to announce Miers' replacement as early as today.
A senior administration official said the White House, after concluding Wednesday that Miers must withdraw, has focused on a group of judges who were in the running to replace Justice Sandra Day O'Connor before President Bush chose Miers, his longtime adviser and current White House counsel.
The group includes Samuel Alito, Michael Luttig, Priscilla Owen and Karen Williams, the official said. All four judges had been interviewed by President Bush or top administration officials and indicated they would accept the nomination if asked.
Miers' dramatic withdrawal, less than four weeks after her unexpectedly controversial nomination, came after a harshly critical public campaign by many leaders of the Republican Party's conservative base. Prominent conservative lawyers and pundits, who had supported Bush through war in Iraq and increased government spending, drew the line at what they saw as a squandered opportunity to change the direction of the court for the next 30 years.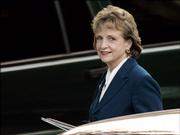 The White House was completely caught off guard by the fury of its staunchest supporters. It had believed the base would support Miers and that Democrats would find little to oppose. Instead, the conservative opposition grew more vocal by the day, with one group even buying television advertisements to oppose her.
Democrats, for their part, were emboldened Thursday by the rare capitulation by Bush, after he had forcefully defended Miers for weeks. But some also were apprehensive that his next pick would be more aggressively conservative and accused Bush of caving into the party's right wing.
Bush's political advisers now have urged him to nominate an experienced judge with a solidly conservative judicial philosophy who could deftly handle questions on constitutional law - a sharp contrast to Miers, who never served as a judge.
Given the harsh reaction to Miers, the White House feels far less pressure to nominate a woman, sources said, even though the nominee would replace Sandra Day O'Connor, the first woman on the Supreme Court and one of only two sitting female justices. O'Connor, who announced her retirement in June, has agreed to serve on the court until her successor is confirmed.
Contenders
That puts the spotlight on Alito, whose philosophy, intellect and Italian heritage have drawn so many comparisons to Justice Antonin Scalia that he is sometimes called "Scalito," and Luttig, a favorite of many legal conservatives and Republican senators. Luttig, 51, sits on the Richmond, Va.-based federal appeals court. Alito, 55, sits on the Philadelphia-based federal appeals court.
Judge J. Harvie Wilkinson, also of the Richmond-based court, had previously been under consideration, but he was seen as a less likely choice because he is older than other nominees and would be less likely to energize the base than other nominees, sources said.
Not in contention
Atty. Gen. Alberto Gonzales, long believed to be Bush's first choice, is not under consideration, the administration official said. Conservatives who ardently opposed Miers would be no happier with Gonzales, and he would face demands, like Miers, that he disclose documents from his service in the White House.
Also not under consideration are federal appeals court Judges Michael McConnell, Janice Rogers Brown, Edith Brown Clement, Edith Jones and Emilio Garza, sources involved in the process said. All have been mentioned as possible nominees in the past, but the White House has ruled them out for the O'Connor nomination, several sources confirmed.
Conservatives elated
Speculation on Miers' withdrawal had been building in recent days, but the announcement caught Washington by surprise. Conservatives were euphoric, saying the move gave Bush an opportunity to "reset" the nomination and turn to an experienced conservative with the intellectual heft to counter the court's liberal heavyweights.
The White House said Miers withdrew because senators were demanding to see documents from her tenure as White House counsel. But the administration had easily deflected similar requests when Chief Justice John Roberts Jr., who had worked in the George H.W. Bush administration, was nominated a few months ago. He was easily confirmed.
Those on both sides of the political aisle said instead that Miers' fate was sealed when conservatives rallied against her and leading Republican senators refused to come out in strong support. Her meetings with senators, including powerful Judiciary Committee Chairman Arlen Specter, R-Pa., did not go well.
Specter was baffled after Miers said he had misquoted her about a constitutional right to privacy. He later held a highly unusual press conference with the committee's top Democrat, Patrick Leahy of Vermont, to criticize Miers' response to a standard Senate questionnaire and demand that she redo significant portions of it.
In Roberts' shadow
Miers had extensive legal experience in Texas and a career marked by a series of "firsts." She was the first woman president of the Texas Bar Association and first female managing partner of her Dallas law firm. She also served on the Dallas City Council and ran the Texas Lottery Commission. But those skills did not translate well in her practice sessions designed to prepare her for her Judiciary Committee hearings, sources said.
Her ostensible shortcomings were particularly apparent, some said, because her nomination came on the heels of an accomplished performance by Roberts, a leading Supreme Court lawyer before becoming a federal appeals court judge.
Copyright 2018 The Lawrence Journal-World. All rights reserved. This material may not be published, broadcast, rewritten or redistributed. We strive to uphold our values for every story published.