AURORA, COLO. — Denver Broncos offensive lineman Dwayne Carswell was in critical but stable condition with an excellent prognosis Thursday after he was involved in an accident that ripped the driver's side door off his car while on his way to team headquarters.
The 12-year veteran, known by his teammates as "House," fractured multiple ribs, ruptured his diaphragm and spleen and sustained internal injuries.
He was in intensive care at a suburban Denver hospital after a five-hour operation to remove his spleen and repair internal organ damage. Coach Mike Shanahan said the operation "went as well as it could possibly go," but dismissed any thought of Carswell playing again any time soon.
"He won't return this season," Shanahan said. "It is very serious, what he went through. Now, it's worrying about recovery and hopefully, not having a lot of pain."
Shanahan and trainer Steve Antonopulos addressed the team about Carswell's situation in meetings not long after the morning accident. After the team warmed up at the start of practice, the players broke their huddle by shouting, "House!"
"You just pray for the best. That's all you can do now," offensive lineman George Foster said. "Football is secondary."
Officer Tony Guzman said Carswell was in one of three cars traveling south on a busy, eight-lane thoroughfare that passes close to Broncos headquarters in suburban Denver - when two northbound cars collided and veered into the southbound lanes. Several cars were extensively damaged. A woman whose name wasn't released was treated and released from the hospital.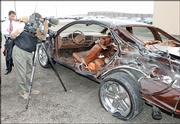 "In no shape or form was (Carswell) the one that caused the accident," Guzman said.
Both doors and much of the front and rear fenders on the driver's side of Carswell's car, a 1994 Chevrolet sedan, were torn off and crumpled.
The 33-year-old Carswell played tight end during his first 11 seasons, all in Denver. This year, he was moved to the offensive line, though the Broncos have used him in tackle-eligible situations several times. Last month, playing in his home town of Jacksonville, he caught two touchdown passes.
"He probably has the best hands catching the ball on this team," linebacker Al Wilson said. "He is a veteran guy that players look up to and seems to produce week in, week out."
Shanahan said Carswell wouldn't be allowed to see visitors until today at the earliest.
The Broncos probably will place Carswell on their non-football-related injury list in the next week, which would free up a roster spot for an offensive line that doesn't have much depth.
Copyright 2018 The Associated Press. All rights reserved. This material may not be published, broadcast, rewritten or redistributed. We strive to uphold our values for every story published.