Millions of Californians have made hefty contributions of cash, stocks, even antique jewelry, to state coffers without knowing it. That's because lawmakers have been raiding the state's unclaimed property cache and using the proceeds to help balance the budget.
About $896 million in unclaimed property was turned over to the state for safekeeping last year, under a 46-year-old program designed to protect assets that taxpayers may have forgotten or not known about. Less than $239 million of that was eventually claimed; most of the rest was dumped into the state's general fund.
Many of the owners would be relatively easy to find. For example, the state has absorbed $10,000 in payments issued to the Red Cross, which the organization has not claimed. Online records show that a $1,475.45 hospital payment to a David Geffen on Pacific Coast Highway in Malibu has not been claimed.
Danny DeVito has a $26 check waiting for him from All-State Insurance. Reese Witherspoon is owed nearly $100 by Tiffany Co.
And California first lady Maria Shriver has more than $300 waiting for her in the state's unclaimed property vault, according to the state controller's Web site.
The state is holding a $64.63 Tiffany & Co. credit for a Michael Ovitz. And Los Angeles Mayor Antonio Villaraigosa has an $80 payment waiting for him from an insurance company.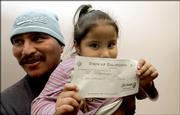 They are among 7.6 million California businesses and individuals whose unclaimed property has totaled roughly $4.8 billion since the program started. The state spends $15,000 a year tracking them down. Last year, it used $630 million of their money to plug a hole in the budget.
State officials have been increasingly aggressive about taking control of the property. When the program began, property could go unclaimed for more than 15 years before it had to be turned over to California. Now, the state takes it after as little as a year.
Most unclaimed property is cash and securities; it comes from bank accounts, paychecks, utility company refunds and other sources. There are also valuables such as antique jewelry left in safety deposit boxes.
Utilities, banks and other businesses are bound by law to give the state unclaimed property after a period that varies by type of property; they face stiff penalties if they fail to do so. Employers must surrender unclaimed employee paychecks after a year; banks have three years to relinquish accounts and safety deposit boxes that have been abandoned.
The state pays commissions to outside contractors to hunt down out-of-state money owed to Californians.
Ron Roach, spokesman for the California Taxpayers Assn., said the system is "rigged" to keep the property in state coffers.
"Fifteen-thousand dollars to get back hundreds of millions of dollars?" he said. "Our state policymakers are more interested in balancing the budget with someone else's money than they are in making a sincere effort to find people and get them their money."
State Controller Steve Westly, who is charged with getting the money back to Californians, responded: "We don't have a budget for this. We rely on (the) media to get the message out."
Wednesday, Westly held a news conference at First AME Renaissance Center to spread the word about the Web site, www.searchthevault.com, where Californians can search for unclaimed property.
Westly and his staff handed out $33,000 worth of unclaimed property checks and reported that an 88-carat Blue Star Sapphire ring, valued at $25,000 was recently claimed. A $1.2 million watch and a coin collection worth $250,000 were also claimed.
Reporters were shown video of a state vault filled with unclaimed jewelry, savings bond certificates and other valuables - all slated for liquidation.
There is no deadline on claims. Even after property such as jewelry has been sold at auction by the state, Californians can still claim the cash, in perpetuity. The controller's office maintains records of the price it gets for the unclaimed goods.
State budget writers estimate that at least 80 percent of it will never be claimed, and in the past two years have put that amount into the general fund under the direction of the handful of lawmakers who serve on budget committees.
Some lawmakers were surprised to learn how much unclaimed wealth was in the general fund and how little the state does to find its owners.
"We should be spending a little bit more time trying to find these people," said Assembly Revenue and Taxation Committee Chairman John Klehs, a Democrat from San Leandro. "I wasn't aware that much unclaimed property was going into the general fund."
Senate Republican Leader Dick Ackerman, of Irvine, said he hadn't realized how little effort is made to locate the owners. "This is something we should take a look at," he said.
Administration officials said the Legislature put the $15,000 cap on outreach efforts more than a decade ago, amid concerns that money intended for informing the public was being spent for other purposes.
- The Associated Press contributed to this report.
Copyright 2018 The Lawrence Journal-World. All rights reserved. This material may not be published, broadcast, rewritten or redistributed. We strive to uphold our values for every story published.