Baldwin — There was a look of thanks on the faces of the Baldwin High football players following their 35-20 victory Thursday night against Eudora.
The Bulldogs scored 28 unanswered points against the Cardinals with rushing touchdowns by John Brown and Josiah Mason and a passing TD from Jeremy Wright to Brown. But thanks to a big defensive stop by Eudora late in the third quarter, the Cardinals rattled off 20 straight points of their own.
"You kind of take a deep breath and you've got to rely on your teammates next to you to make the plays that are going to win it for you," Brown said. "And that's what we did, and we came out on top."
Eudora was looking to strike first on the opening kickoff but ended its drive with an interception inside the Baldwin 20. The Cardinals went completely cold after that.
The Bulldogs, on the other hand, were not. They scored on all three of their possessions in the first half.
But late in the third quarter, things started falling in Eudora's direction. A few big gains by the offense, a mistake by the Bulldog's punter, and key defense plays, and suddenly the Baldwin fan-base was on tilt.
Photo Gallery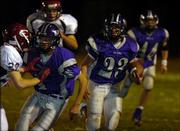 Eudora High vs. Baldwin 10-27-05
"We were panicked," said the Bulldogs' Jeremy Wright when they saw their 28-point lead dwindle to eight. "But we got the team slowed down. I love our teammates, I love our line - they're big leaders up there, and they got us all settled down and led us to victory."
Those linemen led the offense to 397 total yards, 227 coming in the second half. The line, along with Klay Garrison, who racked up 88 of his 129 yards in the second half, got Baldwin back on track with the final touchdown, on the first drive following Eudora's third TD.
But it's not as if the Cardinals, who were undefeated coming into the game, just gave up from the beginning. Key members of their offense were sidelined with injuries, including Mark Abel, who was injured on his first run of the night.
"He gets hurt on the first time he touches it, so then we're scrambling for wide-outs and running backs, and that really threw us for a loop," Eudora coach Gregg Webb said. "It wasn't so bad going into the game, as it was as the game was going on, and we start getting some kids nicked up."
Webb then turned to quarterback Kyle Brouhard to spark the lackluster offense. Despite three bad snaps for a loss of 17 yards each, Brouhard still amassed 192 yards and three touchdowns, two by land and the other by air.
"It was basically a mental thing," said Brouhard when asked how the attempted comeback aided the team heading into the postseason. "I think we just let them get ahead way too fast."
Both teams will have five days to prepare for the opening round of the postseason, with Baldwin getting to play in comfort of home, while Eudora will take to the road.
Webb said the shortened period to prepare between games was not that big of deal. There is something he is more worried about.
"Health," the Cardinals' coach said. "Our trainer is going to be busy - our trainer is going to be awfully busy."
Copyright 2018 The Lawrence Journal-World. All rights reserved. This material may not be published, broadcast, rewritten or redistributed. We strive to uphold our values for every story published.