Muzaffarabad, Pakistan — Fears of disease among South Asia's quake survivors grew Thursday after health officials said 22 people had died from tetanus. Doctors were also bracing for a spike in pneumonia, bronchitis and other diseases with the coming Himalayan winter.
President Gen. Pervez Musharraf asked officials to use all their resources to provide relief goods and shelter to victims in Kashmir and other parts of the country. He said the hundreds of thousands of people without shelter must get tents within two weeks.
The Oct. 8 quake is believed to have killed nearly 80,000 people and left more than 3 million homeless. Many of the tens of thousands of injured had to wait a week or more to get their first medical treatment, so infected wounds have been rife.
Sacha Bootsma, of the World Health Organization, said there had been 111 tetanus cases since the temblor struck, of which 22 were fatal. She said the numbers were normal for a disaster of this magnitude.
Bootsma said all hospitalized patients were being inoculated against tetanus, which occurs when bacteria enter the body through cuts or scratches and infect the nervous system.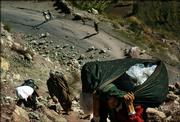 A government driver with a suspected case of hemorrhagic fever was taken from Bagh, a town about 40 miles from Muzaffarabad, to an Islamabad hospital, Bootsma said.
Blood samples were sent to South Africa for testing, but Pakistani health officials said Thursday the man was not suffering from a hemorrhagic fever, the state-run media said. The report did not give details.
Donors, including Pakistan's rival India, have pledged $580 million for quake victims, but the United Nations said more resources were needed to save between 2 million and 3 million lives.
In Washington, the Bush administration announced that five leading U.S. businessmen had agreed to launch a nationwide effort to encourage private donations for relief and reconstruction in the quake zone.
In a positive sign, more villagers were moving down from the mountains, said Urooj Saifee, of the U.N. High Commissioner for Refugees.
Copyright 2018 The Associated Press. All rights reserved. This material may not be published, broadcast, rewritten or redistributed. We strive to uphold our values for every story published.