Every garden needs the essentials, plants that are a great investment because they survive and thrive in their climate. Ornamental grasses certainly fill the bill.
You'd have to try your hardest to kill these fighters.
The practicality of these gorgeous plants is what makes them so popular. They fill in empty areas of the garden and provide interest in the yard all year round.
There are hundreds of varieties of ornamental grasses, but the "big boys" really put on a show this time of year. These giant grasses swing for the fences in autumn, their colorful plumes swaying softly in the breeze. Among the gifts of these enormous grasses are their movement and sound; their constantly changing shapes, from erect to arching; and their ever-evolving colors, from green blades in spring, to auburn plumes in fall to golden wheat clusters in winter.
The big grasses put on a show in the fall and winter when the garden is in need of a little extra boost. They're such adaptable plants that most of them will prosper in any soil condition, and neither drought nor floods will deter these big, lovely plants from acclimatizing and thriving.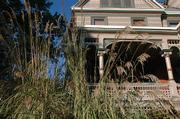 In fact, Clinton Parkway Nursery & Garden Store, 4900 Clinton Parkway, performed an experiment a few summers back when the weather was particularly dry. Owner Ann Peuser and her staff wanted to see just how drought-resistant these grasses really were.
"It was a hot, dry summer, and we just decided to not water some of the large ornamental grasses at all to see what would happen and how hardy they truly are," she says. "Every single switch grass that was planted survived and lives today."
That's quite a testament; imagine having a plant that you don't have to stand over with the hose every morning.
Large grass species
Here are a few varieties common in local gardens and nurseries:
¢ Maiden Grass: These are wonderful paired with perennials and make a terrific screen for wind or privacy. Most Maiden Grasses are large, standing around 6 feet tall and 5 feet wide. In autumn, their plumes are prolific and range from salmon pink to white. In winter, the entire grass turns a stunning golden tan and provides fantastic texture and form. Cultivars with variegated leaves are Zebra Grass and Porcupine Grass, both of which have horizontal yellow bands across the foliage. Gracillimus has a narrow blade with white vertical stripes running through it, and Autumn Red has a lovely crimson hue.
Peuser particularly likes the Arundo variety.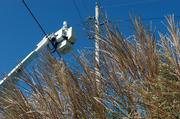 "It is a giant reed that sort of reminds me of corn or bamboo," she says. "I like that it gets tall - really tall. It has a dual purpose for us because we use the reeds as stakes when we trim it in the spring."
¢ Tall Moor Grass: These slow-growers can take a few years to fill in. They send up to 7-foot-tall, pencil-thin stems and have a girth of more than 3 feet. They're a magnificent grass to pair with other plants because they're airy and don't mask the foliage and flowers around them. In autumn, they turns a rich gold. Skyracer has 8-foot-tall butter yellow plumes; Transparent will grow to be 6 feet tall, and its plumes appear to sparkle in the sunlight.
¢ Switch Grass: This plant is native to North America. It's generally large, although smaller cultivars are available. Shenandoah makes a great hedge. Its plumes reach 6 feet tall in midsummer, and the showstopping foliage turns deep burgundy in the fall. Cloud Nine is a gray-green variety that contrasts wonderfully contrast with yellows in the garden.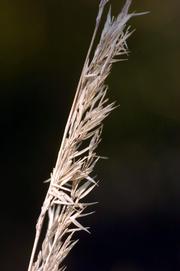 ¢ Ravenna Grass: This is one of the largest grasses, generally standing around 12 feet tall and 7 feet wide. It requires some elbow room to say the least. The plumes appear in autumn and grow to around 2 feet long. They begin pink in September but turn silver for the onslaught of winter.
Practical tidbits
If reading about the sizes of these big grasses makes you a little queasy, don't despair. If they get too large, simply dig up a clump and share it with a fellow gardener. Their roots are tough, and dividing them may require a sharp instrument like a saw or ax. The best time to divide or plant new grasses is spring, although they can withstand being sowed any time of year.
The seed heads, plumes and foliage of ornamental grasses are appealing for most gardeners because of the vertical interest they provide, so they usually remain untouched throughout winter.
Darrel Helling, manager at Earl May Nursery & Garden Center, 3200 Iowa, enjoys the grasses' brown color in the winter.
"These are really a multi-seasonal plant," he says.
In the spring, grasses should be cut down to make room for new growth. It's a good idea to wear gloves and a long-sleeved shirt because these blades will nick and slice. Big grasses are easiest to cut when tied in a grouping and snipped about 5 inches above the earth. Once this task is accomplished, you should have a great arrangement of dried grass plumes to bring indoors and display in a large urn or vase.
Anyway you slice it, these big beauties are a great investment. They make outdoor spaces seem fuller and richer, add lasting interest throughout the year and require almost no attention or care. Check them out; they're making a stunning appearance this fall in a yard near you.
Copyright 2018 The Lawrence Journal-World. All rights reserved. This material may not be published, broadcast, rewritten or redistributed. We strive to uphold our values for every story published.