The monsters are out for Halloween, so be careful. You might even find vintage monsters lurking in your house. Look out for Soaky bottles in the shape of Frankenstein, Wolfman, the Mummy or the Creature from the Black Lagoon. All four bubble-bath bottles were made in 1963 by Colgate-Palmolive. Although the name "Soaky" belongs to Colgate-Palmolive, collectors now use it for all plastic figural bubble-bath containers. The first "toy when empty" bottle was probably Betty or Bobo Bubbles, made in the 1950s. In the 1960s, Purex made Bubble Club bottles that looked like Yogi Bear, Huckleberry Hound or Quick Draw McGraw. Most bottles were made to stand on a shelf or the ledge of a tub, but Wally Gator, Touche Turtle and Spouty Whale were designed to lie down. Early Soakies include Bugs Bunny, Tweety and some Disney characters. "Sesame Street" characters and Barney, the purple dinosaur, were used in the 1990s for other brands of bubble bath. Save figural bottles as well as related bottles called "toppers," which are plain bottles with figural tops. A rare old Soaky like 1965's Dick Tracy can be worth $50, and the very rare monsters can sell for $100 each.
Q: My parents got a glass-shaded table lamp as a wedding present in 1924. I have the lamp today. The only name I can find on it, "The Charles Parker Co.," is sewn on a label on the green felt bottom of the brass base. The lamp is 22 inches tall, with a gray metal body and a six-panel shade. The frosted glass panels are curved and textured, and they're decorated inside with hand-painted flowers. The panels are held together by an overlaid metal frame. Can you tell me something about the company?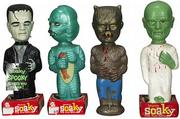 A: From around 1900 until the Depression, many American lamp manufacturers sold fancy table lamps with leaded glass or reverse-painted glass shades. The most famous of those lamp makers were Tiffany, Pairpoint and Handel. But the Charles Parker Co. of Meriden, Conn., was a respected manufacturer of lamps with shades made of leaded glass or of decorated bent glass, like yours, with pierced metal frames. The value of your lamp depends on its condition, so an expert would have to look at it in person. Charles Parker lamps the age of yours, in excellent condition, sell for about $1,000.
Q: My Ferdinand the Bull ceramic figurine isn't listed in the Disney books. He's glazed white with brown horns and hoofs, and is sitting on a white base. The mark on the bottom is "DeLee Art" with a 1938 copyright date.
A: DeLee Art, a Los Angeles pottery in business from about 1936 to 1958, made some high-quality ceramic figurines and planters. But it did not have a license from Walt Disney. So your bull is not Disney's Ferdinand. However, the copyright date of 1938 is the same year that Disney's animated short film "Ferdinand the Bull" was released. It is likely that DeLee was attempting to capitalize on the cartoon character's popularity. The Disney cartoon was based on a 1935 short story, "The Story of Ferdinand," by Munro Leaf.
Copyright 2017 The Lawrence Journal-World. All rights reserved. This material may not be published, broadcast, rewritten or redistributed. We strive to uphold our values for every story published.