The head coach of the 6U Lions is Johnny Paradise, but the playing conditions for the 6U Lions and Dragons game was nothing like paradise.
The playing surface was very slick, with a steady rain beating down through much of the game. Cold temperatures also slowed down the speed of the players.
However, the Dragons were able to overcome the un-paradise-like playing conditions to beat the Lions 8-5 Saturday at Youth Sports Inc. fields.
The sloppy weather conditions made for sloppy play during the first quarter of the game. Lion Riley Paradise scored the fourth goal of the quarter as the whistle blew to tie the game at two goals apiece.
Both teams adjusted to the playing field during the second quarter. The Dragons used team tactics and speed during the second quarter to build a one-goal lead. Dragons attacker Carter Shook shook past the Lions defenders and blasted the ball into the back of the net.
The Lions quickly rebounded to tie the game at three goals each. Lion Elijah Rupprecht dribbled past two Dragons defenders to slide the ball into the back of an empty net.
The Dragons answered even quicker by scoring right off the ensuing kickoff. Shook kicked the ball off, and the ball split two Lions players. Shook then split the same two Lions players, caught up to the ball and touched it into the goal for a lightning-quick score. Shook's goal made the score 4-3 in favor of the Dragons at halftime.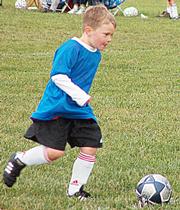 Paradise scored his second goal of the game during the second half to bring the Lions back within one goal at 5-4.
After Paradise's goal, Shook took his game to the next level. Shook used shake-and-bake moves during the fourth quarter to score back-to-back goals to help the Dragons pull away.
The Lions made one last attempt to cut the lead with a goal by Grayson Gilbert, but his effort proved to be too little as the Dragons were able to seal the deal on an 8-5 victor
Copyright 2018 The Lawrence Journal-World. All rights reserved. This material may not be published, broadcast, rewritten or redistributed. We strive to uphold our values for every story published.