New York — Set your sights on giving Halloween food its own dress-up fun, while you set your table with treats that won't trick the hungry, just delight their taste.
Sweets and candy colors tend to grab most attention, but don't forget there's a lot of energy going on, and sooner or later everyone needs a bite of something hearty and solid.
Perhaps for a brunch item early, or party food later, a "sausage ghoulash" is easy to make and could sensibly feed both monstrous hunger and mere haunting pangs.
The recipe is from "Halloween Parties" by Lori Hellander (Stewart, Tabori & Chang, 2004, $14.95 paperback), a compact, colorful collection of ideas on how to throw "spook-tacular soirees and frighteningly festive entertainments." The tone is playful, the suggestions for food, decor and presentation are aimed at partygoers of all ages.
Hellander is relaxed about her party outlines. "Each one offers plenty of room for improvisation," she says. "Some parties can be thrown together in a flash, others will require a bit of preparation - and each one can be modified to suit your schedule and budget."
Following her easygoing style, try this "ghoulash" for a brunch if it suits you, or just count on it to fill the bill when needed. Serve it in suitably colored tableware, if possible, something black, red or earthy, for maximum effect.
Sausage Ghoulash
2 orange bell peppers
2 to 3 large Yukon Gold potatoes (1 3/4 pounds)
2 tablespoons butter
1 to 2 tablespoons olive oil
1 clove garlic, peeled and minced
Salt and freshly ground pepper
1 1/4 pounds spicy chicken or Italian pork sausages
12 to 16 pitted black olives
1 tablespoon chopped chives
Juice of 1/2 lemon
Preheat the broiler. Place the peppers on a foil-lined baking tray and broil them, turning them until the skin blackens. When charred, place peppers in a paper bag or in a bowl covered with plastic wrap. Let them cool until you can easily peel away the skin. Rinse the peppers, remove the stems and seeds, and cut each one into 4 or 5 slices.
Peel the potatoes, halve them lengthwise, and cut them into slices. Pat dry. Heat the butter and 1 tablespoon of the olive oil in a large skillet. Add the potatoes and saute them over medium heat until golden, 15 to 20 minutes. When they are nearly done, add garlic and salt and pepper to taste. Turn off the heat.
Meanwhile, in a separate skillet, saute the chicken sausages in the remaining tablespoon of olive oil over medium-low heat. (If you are using pork sausages, saute them with 2 to 3 tablespoons water over medium-low heat.) When the sausages are browned and cooked through, drain them and cut into 1/2-inch slices.
Add the peppers and sausage to the potatoes and heat the mixture through. Stir in the olives and chives. Add lemon juice to taste.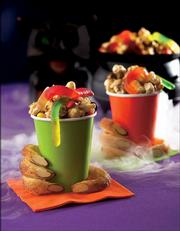 Makes 4 servings.
Whether you're throwing a party for children or having dinner with friends, you can easily give classic frosted vanilla cupcakes a festive touch with black and orange jellybeans, the editors of Everyday Food magazine say.
This recipe from the October issue produces especially toothsome little cakes. They're made with reduced-fat sour cream, which works as well as the regular version in giving them a moist crumb and slightly tangy taste.
Frosted Vanilla Cupcakes
(Preparation 30 minutes, total time 1 hour 20 minutes)
1 1/2 cups all-purpose flour (spooned and leveled)
1 1/2 teaspoons baking powder
1/2 teaspoon salt
1/2 cup (1 stick) unsalted butter, room temperature
3/4 cup sugar
2 large eggs
1 1/2 teaspoons vanilla extract
2/3 cup reduced-fat sour cream
Vanilla Frosting (recipe follows)
Black and orange jellybeans, optional decoration
Preheat oven to 350 F. Line a standard (12-cup) muffin tin with paper liners. In a small bowl, whisk together flour, baking powder and salt; set aside.
With an electric mixer, beat butter and sugar until light and fluffy, about 5 minutes. Beat in eggs, one at a time, until combined. Beat in vanilla.
With the mixer on low speed, gradually beat in flour mixture and sour cream in alternating batches, beginning and ending with the flour. Divide batter evenly among prepared muffin cups.
Bake until a toothpick inserted in the center of a cupcake comes out clean and the top is springy to the touch, 20 to 25 minutes. Cool 10 minutes in the pan, then turn out onto a rack to cool completely before spreading with frosting. Add jellybeans, if desired, to make little faces on top of the frosting.
Vanilla Frosting
4 tablespoons unsalted butter, room temperature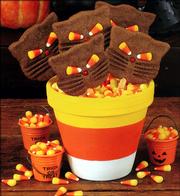 2 cups confectioners' sugar
2 tablespoons milk
1/2 teaspoon vanilla extract
Pinch of salt
In a small bowl, beat together butter, sugar, milk, vanilla and salt until light and fluffy. Use immediately, or cover with plastic wrap, and refrigerate up to 3 days. Before using bring to room temperature.
Makes 1 cup.
Ice-cream "witches" with pointy cone hats could be a temptation for both young and old, while "black cat" cookies on sticks are fun to make and within the skill range of small children to help decorate.
Recipes for both are in the Taste of Home "Celebrations Cookbook" (Reader's Digest, 2005, $29.95), a bright, well-illustrated collection of recipes for year-round parties ranging from holiday feasts to family reunions.
To serve the black cat cookies: You can make a centerpiece for a party by painting a clean clay pot in yellow and orange stripes, then lining the pot with plastic wrap. Fill the pot with candy corn, and stick the cat cookies upright in among the candies.
Mood-setting decorating details also suggested in the cookbook include:
¢ For an eerie glow, replace some of your regular light bulbs with green or orange bulbs, available from hardware and party-supply stores.
¢ Cut out bat shapes from black construction paper and hang them from ceiling or doorways with black thread and tape.
¢ Get a cassette or CD with spooky sounds to play as guests arrive.
¢ Use spider webbing from a party-supply store to cut up and drape around the house, then infest these "webs," tables, counters and shadowy corners with plenty of black plastic spiders.
Bewitching Ice Cream Cones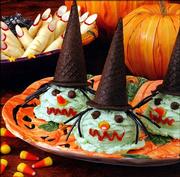 8 chocolate sugar ice cream cones
1 tube chocolate decorating gel
8 thin round chocolate wafers (2 1/4-inch diameter)
1 quart ice cream, pistachio, mint or flavor of your choice
Black shoestring licorice
16 semisweet chocolate chips
8 candy corn candies
Red decorating gel
Coat edge of ice-cream cones with chocolate decorating gel; press chocolate wafer against gel to make brim of hat. Set aside.
Drop 8 scoops of ice cream onto a waxed-paper lined baking sheet. Cut licorice into strips for hair; press into ice cream. Add chocolate chips for eyes and candy corn for noses. Pipe red gel for mouths.
Flatten scoops slightly to hold hats in place; position hats over heads. Freeze for at least 2 hours or until hats are set. Wrap each in plastic wrap after solidly frozen.
Makes 8 servings.
(Recipe from Edie DeSpain, Logan, Utah)
Black Cat Cookies
1 cup butter, softened
2 cups sugar
2 eggs
3 teaspoons vanilla extract
3 cups all-purpose flour
1 cup baking cocoa
1/2 teaspoon baking powder
1/2 teaspoon baking soda
1/2 teaspoon salt
24 wooden craft or Popsicle sticks
48 candy corn candies
24 red-hot candies
Preheat oven to 350 F.
In a mixing bowl, cream butter and sugar. Beat in eggs and vanilla. Combine the flour, cocoa, baking powder, baking soda and salt; gradually add to the creamed mixture. Roll dough into 1 1/2-inch balls. Place 3 inches apart on lightly greased baking sheets.
Insert a wooden stick into each cookie. Flatten with a glass dipped in sugar. Pinch top of cookie to form ears. To make whiskers, press a fork twice into each cookie. Bake at 350 F for 10 to 12 minutes or until cookies are set. Remove from oven; immediately press on candy corn for eyes and red-hots for noses. Remove to wire racks to cool.
Makes 2 dozen cookies.
(Recipe from Kathy Stock, Levasy, Mo.)
Easy and effective: Monster Munch mix piled into colored cups grasped by Witchy Fingers are among sweetly scary treats featured in the October issue of Woman's Day magazine.
Monster Munch
(Total time 10 minutes)
7-ounce box caramel popcorn-nut mixture
2 tablespoons semisweet chocolate chips
1/2 cup each candy corn and Reese's Pieces candies
1 cup Halloween gummy candies (worms, spiders and such)
Spread popcorn mix on a baking sheet. Melt chocolate; spoon into a small ziptop bag. Snip off 1 corner of bag; drizzle over popcorn. Refrigerate to set.
Mix popcorn mixture with remaining ingredients. Serve in paper cups, with Witchy Fingers (recipe follows) wrapped around.
Makes 4 cups.
Witchy Fingers
(Total time 28 minutes)
11-ounce tube refrigerated breadstick dough
1/2 stick ( 1/4 cup) butter, melted
2 tablespoons cinnamon sugar
1 large egg, slightly beaten
48 sliced, natural (with skin) almonds
Heat oven to 375 F.
Crumple 4 large pieces of foil; shape each into a 15-by-2-inch log. Place on a baking sheet.
Unroll dough. Cut each of the rectangles crosswise in half, then lengthwise into 2 strips. Cut 1 end of each into a fingertip shape.
Roll strips in butter and drape over foil logs; sprinkle with cinnamon sugar. Brush fingertips with beaten egg; press an almond slice "nail" on each fingertip. Bake 8 minutes until golden. Serve wrapped around cups of Monster Munch.
Makes 48 fingers.
Copyright 2013 The Lawrence Journal-World. All rights reserved. This material may not be published, broadcast, rewritten or redistributed. We strive to uphold our values for every story published.