In just a two-year stint as manager of Lawrence's Hobby Lobby, Don Bushell already has seen what has made 23rd Street infamous with many city residents.
"We have lots of wrecks," said Bushell, whose store is at 1801 W. 23rd St. "I've already seen a lot. Anything the city can do to make traffic flow better out here, I'm all for it."
City commissioners tonight will hear a plan to improve 23rd Street by eliminating 17 driveways between Iowa and Louisiana streets. But commissioners will have to determine how aggressively they want to tackle the troubled stretch of road. Commissioners will be told that there are several property owners who voluntarily would agree to move their curb cuts - if the city pays for the expense. But there are others who likely would fight the idea and force city commissioners to condemn portions of their properties to complete the plan.
City Commissioner David Schauner said he wants to see how much the city can accomplish by working with property owners.
"I don't think it is worth a war, but it is worth a conversation and a little bit of a financial incentive," Schauner said. "I think we have a chance to do something meaningful out there for motorists."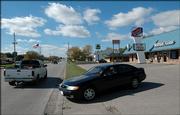 The road has plenty of room for improvement. Terese Gorman, the city's engineer, said the stretch of 23rd Street between Alabama and Louisiana streets had the highest accident total in the city in 2003, with 23 accidents. The stretch between Naismith Drive and Ousdahl Road was second with 16.
Eliminating and relocating curb cuts should help, said Kevin Wallace, a project manager with HNTB Corp., which conducted a study of the roadway. Wallace said eliminating curb cuts would reduce the number of places where motorists may make a risky left-hand turn across traffic, and relocating curb cuts should improve visibility.
"We're just trying to make the decision points a little easier for motorists," Wallace said. "We want to give them a little less to think about."
Businesses that lose a driveway entrance would often be asked to share a newly built drive with an adjacent business. The two businesses would sign legal documents allowing each other's customers to go through their parking lots.
-->
Scott Shmalberg, president of Scotch Fabric Care, isn't convinced. His dry-cleaning business at 1526 W. 23rd St. would lose one curb cut as part of the plan.
"Simply closing curb cuts is not the answer," Shmalberg said. "I think if you close the curb cuts, you are just going to accelerate the speed of traffic and maybe have more accidents as a result."
Shmalberg said improving traffic on 23rd Street requires community leaders to think much bigger.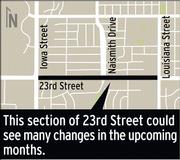 "The ultimate alternative is to come up with some sort of bypass," Shmalberg said. "There are a lot of people on 23rd Street who are just trying to get through town."
The entire project would cost $770,000 to complete - assuming the city wouldn't have to condemn and purchase property. The city has $675,000 available for the project through a grant from the Kansas Department of Transportation. Gorman said construction work wouldn't begin until 2007. But she said city staff members would begin negotiations with interested property owners immediately, if commissioners agree to move ahead.
Commissioners will meet at 6:35 p.m. tonight at City Hall, Sixth and Massachusetts streets.
Copyright 2018 The Lawrence Journal-World. All rights reserved. This material may not be published, broadcast, rewritten or redistributed. We strive to uphold our values for every story published.