SALISBURY, N.C. — Natrone Means made his living running straight at - and sometimes over - tacklers. Yet the big, bruising NFL back seemed to be doing his best to sidestep the next step in a life built on football.
After injuries ended his playing days, Means dabbled in real estate. He played golf. He started a youth football association. But he just couldn't get away from the pull of the sport he had played since he was 7.
Finally, he succumbed and became a coach.
"It almost seems like I was kind of running away from coaching," he said.
Means, who helped the San Diego Chargers reach the Super Bowl, is in his first season coaching running backs at Livingstone, a Division II school with about 1,000 students approximately 40 miles from Charlotte. The packed stadiums and cozy player lounges of his playing days have given way to a small practice field lined by a chain-link fence on a residential street.
In some ways, Means has come home. He is coaching just a few miles from where he starred in high school almost 20 years ago.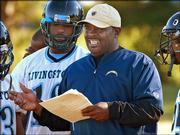 "We can't all be businessmen. We can't all be Donald Trump. And we can't all come up with that invention that's going to change the world," Means said. "But football is what I know."
The 33-year-old Means spent eight seasons in the NFL, playing with San Diego and Jacksonville before ending his career with a brief stop at Carolina in 2000. His best season was 1994, when the 5-foot-10, 245-pound back ran for 1,350 yards and 12 touchdowns while leading the Chargers to the Super Bowl in his second year.
Livingstone's interim head coach, Robert Massey, knew Means from when they both played for Jacksonville in 1996. Massey talked with Means about joining him when he landed a college job. That happened when Ben Coates, a former NFL tight end, left for the Cleveland Browns' staff.
"He's a big name, not only for publicity but for recruiting," Massey said. "And he's a hell of a coach. He has a good football mind. Knowing that he's a former pro athlete, the kids will be very attentive and will work hard for him."
Copyright 2013 The Associated Press. All rights reserved. This material may not be published, broadcast, rewritten or redistributed. We strive to uphold our values for every story published.