It will be at least four months before prosecutors begin publicly making their case against a man charged with setting a deadly apartment fire.
Photo Gallery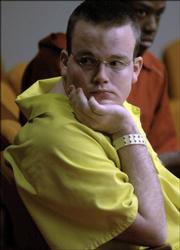 Jason Allen Rose
Jason Allen Rose, 20, made a brief appearance Monday in Douglas County District Court, where Judge Jack Murphy scheduled a three-day preliminary hearing for him starting Feb. 22.
"It's going to take us several months, I think, to ... be ready for a preliminary hearing," said Ron Evans, one of Rose's court-appointed defense attorneys.
Rose is charged with three counts of murder and one count of arson for the Oct. 7 fire, which destroyed a block-long building at Boardwalk Apartments in the 500 block of Fireside Drive.
The fire killed Kansas University student Nicole Bingham, social worker Yolanda Riddle and electrician Jose Gonzalez, and injured or displaced dozens more residents.
Police and prosecutors have declined to talk about what evidence they have against Rose or how they believe the fire was started.
At a preliminary hearing, prosecutors would be required to show probable cause that Rose committed the crimes.
Rose is being held in the Douglas County Jail with bond set at $500,000.
Boardwalk Apartments Fire
More on the Boardwalk Apartments Fire
Copyright 2018 The Lawrence Journal-World. All rights reserved. This material may not be published, broadcast, rewritten or redistributed. We strive to uphold our values for every story published.