Rosa Parks, the dignified black seamstress whose refusal to surrender a bus seat to a white man launched the modern civil rights movement and inspired generations of activists, died Monday night at her home in Detroit, the Wayne County medical examiner's office said. She was 92.
No cause of death was reported immediately. She had dementia since 2002.
"Rosa was a true giant of the civil rights movement," said U.S. Rep. John Conyers Jr., D-Mich., in whose office Parks worked for more than 20 years. "There are very few people who can say their actions and conduct changed the face of the nation, and Rosa Parks is one of those individuals."
Parks said that she didn't fully realize what she was starting when she decided not to move on that Dec. 1, 1955, evening in Montgomery, Ala. It was a simple refusal, but her arrest and the subsequent protests began the complex cultural struggle to legally guarantee equal rights to Americans of all races.
Within days, her arrest sparked a 380-day bus boycott, which led to a U.S. Supreme Court decision that desegregated her city's public transportation. Her arrest also triggered mass demonstrations, made the Rev. Martin Luther King Jr. famous, and transformed schools, workplaces and housing.
Hers was "an individual expression of a timeless longing for human dignity and freedom," King said in his book "Stride Toward Freedom."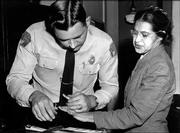 "She was planted there by her personal sense of dignity and self-respect. She was anchored to that seat by the accumulated indignities of days gone and the boundless aspirations of generations yet unborn."
Perfect plaintiff
She was the perfect test-case plaintiff, a fact that activists realized only after she had been arrested. Hardworking, polite and morally upright, Parks had long seethed over the everyday indignities of segregation.
She was an activist already, secretary of the local chapter of the NAACP. Even as a child, she thought accommodating segregation was the wrong philosophy.
It was as if Parks was born to the role. Rosa McCauley was born Feb. 4, 1913, in Tuskegee, Ala. She was the daughter of a carpenter and a teacher. Still a child when her parents separated, she moved with her mother to Pine Level, Ala., and grew up in an extended family that included her maternal grandparents.
Her mother taught Parks at home until she was 11, when she was enrolled in the Industrial School for Girls in Montgomery, where her aunt lived. Segregation was enforced, often violently.
She married barber Raymond Parks in 1932. They shared a passion for civil rights; her husband was an early defender of the Scottsboro Boys, a group of young blacks charged with the rape of two white women.
Parks finally earned her high school degree in 1933, when fewer than 7 percent of blacks had graduated from high school. About the same time, she was finally allowed to register to vote - on her third try.
She was a volunteer secretary to E.D. Nixon, president of the Montgomery chapter of the NAACP, while working as a seamstress and housekeeper to a white couple, Virginia and Clifford Durr. The Durrs became her friends, and they suggested - and sponsored - her attendance at a training workshop on racial desegregation at the Highlander Folk School in Monteagle, Tenn., in the summer of 1955.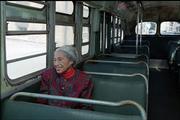 So a few months later, in the winter of 1955, when Parks refused to give up her seat on the bus, it was with the knowledge of both the everyday indignities of segregation and the building momentum of the civil rights movement.
'Let me have those seats'
Parks was working as a seamstress for the Montgomery Fair department store, and as she waited for the Cleveland Avenue bus to take her home, she let a full bus go by. The Jim Crow laws reserved the first four rows of a city bus for whites and the last 10 for blacks. The seats in the middle could be used by blacks if no whites sought them. But if a white person wanted a seat, the whole row was emptied.
Also, bus drivers in Montgomery made blacks, who were nearly 70 percent of the riders, enter the front door, pay their fare, disembark and re-enter by the back door.
James F. Blake, the driver of the bus Parks boarded in 1955, had put her off a bus in 1943 when she refused to enter through the back door because the back was jammed. After that, she refused to board any bus he drove, but when the bus pulled up to the Court Square stop, Parks forgot to see who the driver was. She got on and took a seat in the middle section, next to a black man at the window and across the aisle from two women. At the next stop, some white people got on, filling up the seats reserved for them, and one white man was left standing.
"Let me have those front seats," the driver said, indicating the front seats of the middle section. No one moved. He repeated himself: "Y'all better make it light on yourselves and let me have those seats."
The black rider by the window rose, and Parks moved to let him pass by. The two women across the aisle also stood up. Parks slid over to the window. "I could not see how standing up was going to 'make it light' for me," she wrote in her autobiography, "My Story" (1992). "The more we gave in and complied, the worse they treated us.
"People always say that I didn't give up my seat because I was tired, but that isn't true. I was not tired physically, or no more tired than I usually was at the end of a working day. I was not old, although some people have an image of me as being old then. I was 42. No, the only tired I was, was tired of giving in."
The bus driver said he would have her arrested, and she replied, "You may do that." He called the police and waited. When the police arrived, she asked one, "Why do you all push us around?" She said he replied, "I don't know, but the law is the law, and you're under arrest."
Start of a boycott
She was bailed out that night, and her boss at the NAACP asked if she would be the test case for a lawsuit. She discussed it with her husband and mother and then agreed. Meanwhile, the leaders of the Women's Political Council mimeographed 35,000 handbills calling for a bus boycott. Black ministers got behind the effort. All 18 black-owned cab companies agreed to stop at all bus stops and charge 10 cents per ride, while others carpooled or walked.
She was found guilty of violating the segregation law and fined. Her attorneys, afraid that the charge might be overturned without the underlying law being addressed, filed a petition with the U.S. District Court that directly challenged the law.
It was a wise strategy: Parks' original appeal was dismissed and the conviction upheld, so it was the second case that went to the Supreme Court a little less than a year later, and the court overturned Alabama's segregation laws.
Difficult aftermath
Parks, who had never been anything but poor, suffered financially in the immediate aftermath of the December arrest.
"In fact if I had let myself think too deeply about what might happen to me, I might have gotten off the bus," she said in her autobiography.
She lost her job at the department store. Her husband quit his job after his boss ordered that no mention be made of "Rosa" or the case. She traveled extensively, speaking and raising funds for the legal fight.
Fed up with telephone death threats and worried about the firebombings of supporters' houses, the Parkses moved to Detroit in August 1957, to live near her younger brother.
In 1965, she became a staff assistant for Conyers, working for him until she retired in 1988. Her husband died in 1977, and her mother died in 1980.
In 1987, with the help of Elaine Eason Steele, Parks founded the Rosa and Raymond Parks Institute for Self-Improvement, a youth assistance organization in Detroit. Its basic program takes young people on an educational tour that visits sites of importance in the civil rights movement, from the Underground Railroad on.
Even after that, Parks' life remained difficult. She was hospitalized in 1994 after a burglar broke into her house and beat and robbed her. After her recovery, she moved to a high-rise building in downtown Detroit. Five years later, upset at the unauthorized use of her name in a title of a song by the rap group OutKast, she sued. The suit was unsuccessful.
Belated accolades
Near the end of her life, accolades belatedly arrived. Historians noted that she had often been left off the dais at anniversary events of the rights movement. She was a late addition to the Detroit greeting committee when Nelson Mandela came to the United States in 1990. But upon spotting her in the reception line, the Nobel Peace Prize winner paid tribute by chant-ing her name.
A museum-and-library facility on the Montgomery corner where she boarded the Cleveland Avenue bus is named for her. She was given the Medal of Honor, the highest award that the U.S. government bestows, and the Presidential Medal of Freedom, the nation's highest civilian award. More than 40 colleges and universities gave her honorary doctorates, and her name is cited in virtually every U.S. history book that addresses the civil rights movement.
Copyright 2018 The Lawrence Journal-World. All rights reserved. This material may not be published, broadcast, rewritten or redistributed. We strive to uphold our values for every story published.