Boulder, Colo. — As expected, Kansas University's offense looked quite different from the last two weeks Saturday, and the results were a lot more positive.
Despite losing, 44-13, to Colorado, the offense had optimistic results after a number of changes were made, the biggest being the season debut of Jason Swanson at quarterback, perhaps KU's last hope at the pest of a position.
Swanson wasn't perfect - he barely completed half of his passes and missed open receivers several times - but he also threw for 291 yards and sustained drives that proved to be three-and-outs in past weeks. He also ended a touchdown drought that lasted 160 minutes over three games when he found Charles Gordon on a seven-yard touchdown reception in the second quarter.
"He took control of the offense right away," KU coach Mark Mangino said. "As you can see, he has good touch. He can throw the ball pretty decent. : I thought as the game went on, the kids got excited and gave him a lot of confidence, and I think the energy started to build up."
Photo Gallery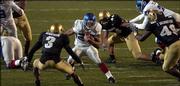 KU vs. Colorado
Swanson came in after Brian Luke failed to produce on three drives. Luke actually left the game because of an injury to his right leg, went to the locker room early and emerged after halftime with a noticeable limp.
Swanson said he was told this week that he would play, making Luke's hook inevitable even if the injury hadn't occurred. Swanson didn't play in KU's first six games because of an undisclosed nagging injury that hindered his ability to perform and stay in shape.
"I'm just now 100 percent, whereas before I was like 90," Swanson said.
KU had 354 yards of total offense Saturday, compared to 333 in the last two weeks combined. With Swanson's poise, and the added use of freshmen Ryan Cantrell and Anthony Collins on the right side of the line, KU's offense looked a lot more comfortable and a lot less hopeless, as it was in losses to Oklahoma and Kansas State.
"They did a complete turn from what they've been doing the last couple of weeks," Swanson said of the offensive line. "They protected very well, they run-blocked pretty well, they made the right checks, they were getting my checks. It's been a great improvement."
Kansas had 22 first downs, converted 75 percent of its red-zone chances and just had noticeable faith in itself on offense, something missing ever since the Oct. 1 game at Texas Tech. With Swanson the likely starter next week, it seems the dismal problems that made things tough on KU might be in the past.
"I've been ready since I got hurt," Swanson said with a laugh. "I've been itching to play ever since the season started. I've been real anxious."
Copyright 2018 The Lawrence Journal-World. All rights reserved. This material may not be published, broadcast, rewritten or redistributed. We strive to uphold our values for every story published.