Boulder, Colo. — This is why there's no point in teammates pointing fingers: Just when one group blames someone else for the overall woes of a squad, the scale can shift dramatically in the span of seven days.
Don't blame Kansas University's offense for the 44-13 football loss to Colorado on Saturday. If anything, it was the one facet that played to its capabilities, after two weeks of sucking the hope out of Kansas fans with dismal play.
Instead, KU coach Mark Mangino pins almost half the Buffalo points on the special teams, and the rest on a pass defense that had trouble containing CU's big, physical receivers.
The offense - breathing again after Jason Swanson was inserted at quarterback - seemed capable to keep up if only the other phases could play well.
But that didn't happen, and KU's losing streak now stretches to four Big 12 Conference games as a result.
"It's part of being a team," defensive end Charlton Keith said. "You've got to win all three phases of the game."
The Buffaloes had three touchdown receptions to tight ends - all three with the hefty receivers wide open thanks to exposed glitches in KU's pass coverage.
CU's Joe Klopfenstein had touchdown catches of 40 and 3 yards, while Quinn Sypniewski had a 20-yard score with the nearest Jayhawk nowhere near him. By the time an actual CU wide receiver had a touchdown - Dusty Sprague's 62-yard fourth-quarter reception - the Buffaloes' fight song had been heard enough times to know who was going to win.
Photo Gallery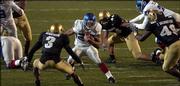 KU vs. Colorado
"We know they are there," coach Mark Mangino said of the tight ends, "and we have to cover them, whether it's zone or man, and apparently we didn't do that."
After the Buffaloes' pass offense put them ahead, the special teams put Kansas away. A KU safety on a poorly snapped ball gave CU a 9-0 lead.
After halftime, Dominique Brooks returned a blocked punt 28 yards for a touchdown and a 10-point lead. Another touchdown - Klopfenstein's second - came after a fake field-goal run worked for 21 yards and a first down.
Stephone Robinson then put the exclamation point on the night by returning a punt 81 yards for a score in the fourth quarter.
After being up just 16-13 at halftime, the Buffaloes outscored the Jayhawks 28-0 in the second half.
"The part that disappointed me the most tonight was special teams," Mangino said. "It's usually been pretty solid for us : but tonight I think we accounted for 23 points for Colorado, and when special teams does that, it's going to be a long night."
Meanwhile, KU's offense showed signs of life after flat-lining through three weeks and four quarterbacks.
Brian Luke started and lasted three drives before an undisclosed injury - apparently to his right leg - knocked him out. He might've been ticketed to leave anyway, though, with Swanson getting prepared to play all week and the offense compiling minus-2 yards with Luke in.
Swanson finished 26-of-50 for 291 yards in about three quarters. Not a perfect night, but good enough for Mangino to ticket him as next week's starter provided nothing drastic happens in practice this week.
"I think I did all right," Swanson said. "I went out there trying to stay calm the whole game, and my teammates did a good job of keeping my spirits up on the sideline no matter what happened."
Swanson ended a 10-quarter touchdown drought by finding Charles Gordon with a seven-yard lob pass in the corner of the end zone, putting KU within three just before halftime.
Gordon played almost exclusively at wide receiver for the second straight week, and Mangino hinted that it wouldn't change despite CU having a solid day with the pass. Gordon caught eight passes for 86 yards to lead KU's receivers.
"I think they could use Charles in some third-down situations here and there," Mangino said of the cornerback, "but what he brings to the offense and what's missing from the defense, it favors him being on offense."
The four-week road trip away from Lawrence is over, and there's no doubt the schedule gets more favorable for the Jayhawks, starting with Missouri at home next week.
And KU needs a boost.
Kansas must go 3-1 to close out the regular season if it wants to be bowl-eligible. With a road game at No. 2 Texas still on the schedule, the three remaining games at Memorial Stadium could be the difference between the season ending in November or lasting into the holiday season.
"I learned that our kids will continue to fight and compete," Mangino said. "Winning is still very, very much important to them."
Copyright 2018 The Lawrence Journal-World. All rights reserved. This material may not be published, broadcast, rewritten or redistributed. We strive to uphold our values for every story published.