Boulder, Colo. — Dominique Brooks and Stephone Robinson must wish they could play against Kansas University every week. Then again, what Big 12 Conference football players wouldn't wish the same?
Brooks returned a blocked punt 28 yards for a touchdown in Colorado's 44-13 victory over the Jayhawks on Saturday night at Folsom Field. Robinson returned a punt 81 yards for a touchdown on the final score of the night.
Brooks scored the only other touchdown of his career last season on a 41-yard fumble return against KU.
"It's amazing how he had a fumble return for a touchdown last year against Kansas and gets one this year," Colorado coach Gary Barnett said. "I think the biggest play was the fake field goal, which let us get on the board early. Special teams just really got us over the hump."
Another amazing fact: Robinson returned a punt 48 yards for a touchdown last year against Kansas.
Photo Gallery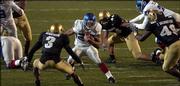 KU vs. Colorado
"This week, coach Barnett continued to challenge the punt unit to step up our play," Robinson said. "I think our 16 points tonight helped prove what we can do and now it's just a matter of developing more consistency. It's been tough this year on punt returns because I've had a couple of long ones called back on penalties, or I've slipped, or I've been one block away from breaking it. And tonight it was just time."
Said Barnett: "We really challenged them this week, and they really stepped up. They put a lot of pressure on the punter all night. I was really proud of them."
The special teams unit was so good that it overshadowed one of the Big 12's best offenses.
Quarterback Joel Klatt burned the KU secondary for four touchdowns, including a pair to tight end Joe Klopfenstein. On the second JK-to-JK TD, a three-yard reception, both players broke school records. Klatt's 41st touchdown pass broke the record set by Koy Detmer. Klopfenstein's 12 touchdown reception broke a record that he briefly shared with three others.
Klatt passed for 193 yards, pushing his career total to 6,307 yards. He could break Cordell Stewart's school record (6,481 yards) as soon as next weekend at Kansas State.
Other than speedy Hugh Charles (77 yards on 14 carries), the Buffs didn't have as easy a time running the ball on a Kansas defense that entered the game limiting teams to 1.9 yards per rush. The Buffs gained 122 yards on the ground on 29 carries, a 3.6 average.
"We struggled running the ball," Barnett said. "We went three straight snaps with one yard. We had a yard to go, and we couldn't get it. So Kansas' defense is very, very good. We had to resort to trying to throw the ball in order to move it."
The very, very good Kansas defense did not perform very, very well on this night. Colorado did not commit a turnover, and the Jayhawks did not sack the quarterback.
Copyright 2018 The Lawrence Journal-World. All rights reserved. This material may not be published, broadcast, rewritten or redistributed. We strive to uphold our values for every story published.