Rain cut short what was planned as a daylong series of benefit concerts to raise money for local and national disaster victims.
But cool weather and overcast skies didn't stop people from going to South Park Saturday afternoon to listen to music and make donations.
"People can come down here to make donations and also have a good time," said Gi Yoon, as he stood near a table where children were getting their faces painted.
Yoon, of Lawrence, was drawn to the park while walking in the area with his 5-year-old son, Seokmin. Then he realized he was at a benefit fundraiser, billed as Love from Lawrence.
The benefit featured daylong performances by eight bands, children's games and other activities, a bake sale, food vendors and a beer garden. Monetary donations go to the American Red Cross and will be divided among hurricane relief efforts and local relief efforts for victims of the Boardwalk Apartments fire and other recent fires. People also contributed nonperishable food items intended for Lawrence food pantries.
The benefit began at 10 a.m., and by the time rain started falling about 3 p.m. several hundred people had come and gone, said Karin Drees, one of several to plan the event with help from businesses and organizations.
"We were going along pretty well," Drees said. "The musicians were having a good time and there were a lot of people here, and then the rain came. Kids were going to the moonwalk because it was covered, and the beer garden suddenly became real popular because it had a canopy."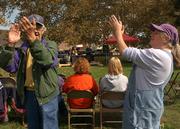 Nevertheless, Drees said she was pleased with the event, which raised about $1,000 as well as 800 pounds of canned food
"A lot of people had said they wanted to help victims but they didn't know how to do it," Drees said.
The musicians played for free.
"It's for a good cause," said Arnie Johnson, leader of the band Midnight Special. "We can never really do enough to help these people. It's hard to get volunteers to do something like this. I love playing, and my band does, too."
Dan Ward was another attendee who was unaware of the benefit until he and his 3-year-old daughter, Katy, passed by while driving downtown. Later that afternoon he stood next to the castle-shaped moonwalk while Katy jumped around inside.
"Once my kid saw the 'bouncing castle,' we had to stop," he said.
Copyright 2018 The Lawrence Journal-World. All rights reserved. This material may not be published, broadcast, rewritten or redistributed. We strive to uphold our values for every story published.