Local police are examining their own procedures in light of a corruption scandal in Topeka's narcotics unit.
But so far, officers say they're confident Lawrence and Douglas County have proper safeguards to help prevent a similar fiasco from happening here.
"When something like that comes to light, you should, as an agency, review what your policies and procedures are," said Sgt. Dan Ward, a Lawrence Police spokesman. "I think we have a good system, and I feel very confident with what we have. We might be able to find a couple of extra checks and balances to insert here and there."
Two Topeka officers, Thomas Pfortmiller and Bruce Voight, have been charged with dozens of criminal offenses, including official misconduct and perjury. A report by Shawnee County Dist. Atty. Robert Hecht released last week found that narcotics officers in Topeka regularly tampered with drug evidence and falsified records, and that supervisors knew of the problems but didn't correct them.
Pfortmiller was recently sentenced to 16 months in prison for various crimes, including stealing money meant for undercover drug buys to support a gambling habit.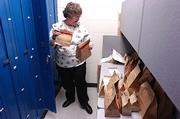 When news of the scandal broke, Lawrence Police Chief Ron Olin "immediately got a hold of us and said 'We need to look at what we're doing,'" Ward said.
Olin also made Hecht's 125-page report about the problems required reading for his department's supervisors, said Sgt. Tarik Khatib, who heads the joint city-county drug unit.
Ward said one of the biggest differences between Topeka's department and the Lawrence-Douglas County drug unit was size. Topeka's drug unit had 11 people. Douglas County's has five or fewer at any given time.
"The problems you see typically come from larger departments with larger units that are harder to supervise," he said.
Among the local safeguards cited by Ward and Khatib:
¢ Officers who are assigned to the drug unit are rotated in and out after two and a half to three years, and rotations in and out of the unit are staggered so that people don't come in together or leave together.
"You get out of the, 'you cover me, I'll cover you,' 'wink, wink,'" Khatib said. He said he believed people acted dishonestly "when they become so confident in their ability to control their environment that they think they can get away with it."
¢ Khatib said he's aware of all undercover buys the unit makes, and he's present at 90 percent of them. He is supervised by Lawrence Police Capt. Dan Affalter.
¢ Khatib said he kept a cash box, out of which his officers can spend money, but he only gives them enough for use in specific, planned buys.
¢ If officers collect drugs in the field, they're expected to turn them in by the end of their shift and would be reprimanded if they didn't, Ward said. Usually, more than one officer responds to an incident where drugs are found, he said.
¢ After officers collect evidence, they put it in a bag, seal it with tamper-evident tape, and put it into a locker they can't reopen. Evidence technicians on the other side of the locker gather the evidence, check it using a computerized bar-code system, and leave it there until it is checked out again for a specific purpose.
Lawrence Police added stricter rules for working with drug informants in 2003, after a judge ruled that a patrol officer, Stuart "Mike" Peck, lied about his relationship with an informant to get a search warrant in a drug case.
Khatib said that if someone was intent on abusing the system, he or she likely would find a way.
"I'm not going to say anything is impossible," he said.
But Ward said that anytime there's a question about an officer's integrity, it's examined fully.
"We take these issues seriously," he said.
Copyright 2018 The Lawrence Journal-World. All rights reserved. This material may not be published, broadcast, rewritten or redistributed. We strive to uphold our values for every story published.