¢ Mark Simmons became KU's all-time leader in pass receptions, catching five balls for 76 yards Saturday. He has 137 receptions in his career, four more than previous record-holder Willie Vaughn. Simmons also has caught a pass in 31 straight games, one of the longest current streaks in the nation.
¢ KU started the game with Ryan Cantrell at right guard, the third starter at the position this season. Jake Cox and Travis Dambach also have started at right guard. The Jayhawks opened with Brian Luke at quarterback and a four-receiver set of Marcus Herford, Charles Gordon, Jeff Foster and Mark Simmons.
Photo Gallery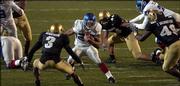 KU vs. Colorado
¢ Theo Baines and Aqib Talib were starters at cornerback, with all other defensive starters normal. It was Baines' first start of the season - usually, Ronnie Amadi or Gordon would start at corner.
¢ Colorado quarterback Joel Klatt set a school record for career touchdown passes, throwing three Saturday for a total of 41. Koy Detmer threw 40 from 1992-96.
¢ CU tight end Joe Klopfenstein set the school record for touchdown receptions by a tight end, getting his 11th and 12th against KU. Christian Fauria, Daniel Graham and Gary Knafelc each had 11 in their careers.
¢ Colorado did not allow a turnover or a sack, just the 12th time the program has done that in 34 years. Interestingly, the last time CU did that was two weeks ago against Texas A&M.;
¢ Kansas once again did not allow a rushing touchdown. It has allowed just one in the last eight games, a scamper by Texas Tech quarterback Cody Hodges on Oct. 1.
¢ Gordon again spent most of the game on offense and special teams, catching eight passes for 85 yards and returning three punts. He caught KU's lone touchdown.
¢ Time of possession was a major problem the last two weeks, but KU actually won that battle Saturday. KU had control of the ball for 34:00, while CU had it for just 26:00.
¢ Colorado kicker Mason Crosby, possessing one of the strongest legs in the game, had three kickoffs sail through the uprights behind the end zone - more than 75 yards away from where he booted it.
¢ Lawrence High product Brandon McAnderson had four carries for 15 yards, including a 12-yard rush in the first half.
¢ Freshman Anthony Collins saw extensive action at right tackle Saturday, though senior Matt Thompson started the game there.
¢ Charlton Keith was KU's leading tackler, making nine stops. Big 12 leader Nick Reid had six, giving him 75 on the season.
¢ Rodney Allen limped off the field after staying on the turf briefly following a play. He returned.
¢ Wide receiver Jonathan Lamb dressed for the first time this season after missing the first six games because of an undisclosed injury suffered in practice seven weeks ago. He was the holder on field goals and extra points and showed no obvious signs of what plagued him.
¢ Steve Usechek was referee and head of the seven-man officiating crew. : temperature at kickoff was 62 degrees with mostly clear skies, and the wind was blowing out of the east at 8 mph.
Copyright 2018 The Lawrence Journal-World. All rights reserved. This material may not be published, broadcast, rewritten or redistributed. We strive to uphold our values for every story published.