Boulder, Colo. — At least Jason Swanson made the Kansas University football team watchable Saturday night at Folsom Field.
Hey, at this point, you have to take your nuggets where you can find them.
Making his 2005 debut, Swanson didn't leave you feeling sorry for him, didn't leave you feeling as if you never want to see him take another snap anywhere but in practice.
He also didn't win, but that's asking too much at this point. Colorado bullied the Jayhawks, 44-13, in front of 48,025 gold-and-black-clad football fans who had few regrets, other than Ralphie the Buffalo's refusal to come out of her pen for her pregame ritual. Bummer. I wanted to see that.
Oh well, at least Swanson left you wanting to see him again, and it had been weeks since that could be said of a KU quarterback.
Photo Gallery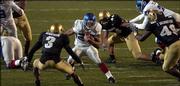 KU vs. Colorado
His body language alone was a welcome change. He had a confident, aggressive walk, a lively look to him as he stood in shotgun formation and hollered the signals.
He didn't look as if he awaited the inevitable storm of defenders piling on him. He wasn't in constant retreat mode. He had a decisiveness about him, looked a little quicker physically and a great deal quicker mentally than his predecessors, Adam Barmann and Brian Luke.
He took chance after chance, rifling it downfield, sometimes succeeding, sometimes turning it over. He came onto the field for KU's fourth series after Luke limped off and awakened an offense that long since had been paralyzed under the guidance of the deliberate Luke.
In three series under Luke, the Jayhawks didn't have a first down, and, get this, had negative-seven yards in total offense.
Luke's Rocky Mountain low came on the final play of the second series when he was sacked for a loss of 11 yards on fourth-and-less-than-a-yard. He faked a handoff, dropped back to pass and was smoked for the evening's strangest sequence of events.
Just in case anyone forgot what Luke's biggest problem was in a poor effort against Oklahoma, he reminded them when his first pass was deflected.
Luke is not unlike the 7-footer who brings the ball down to his waist every time he rebounds it, thus becoming a 6-footer.
The Luke era ended on a night the special teams and defense were atypically shoddy. Bad football teams can't get it all together on the same night.
At least Swanson wasn't half bad. He completed 26 of 50, threw one touchdown pass and was intercepted three times, all the picks coming in a second half in which KU was outscored, 28-0.
"I'm pretty excited about him," KU coach Mark Mangino said. "I think he got some throws off and made some reads that we haven't been able to get all year. I'm pretty excited about Swanny. He's going to have to do something awfully wrong between now and next week not to start the game."
Now the question becomes, does Swanson get better, or do teams get to know him better and expose his flaws after dissecting the film.
Time will tell. For the moment, Mark Simmons appreciated the new look.
"He did a hell of a job," Simmons said. "Didn't play all season, and he looked like he's been out there four years. He did a pretty good job."
For a pretty bad team.
Copyright 2018 The Lawrence Journal-World. All rights reserved. This material may not be published, broadcast, rewritten or redistributed. We strive to uphold our values for every story published.