FIRST QUARTER
9:35 - Quinn Sypniewski 20 pass from Joel Klatt. After a fourth-down conversion failed when Brian Luke was sacked, Colorado took over with a short field and needed just three plays to reach the end zone. On second down, Klatt found Sypniewski wide open on the left side thanks to mixed up coverage, and Sypniewski walked in for six. Mason Crosby kick (Colorado 7, Kansas 0).
8:12 - Colorado safety. Kansas was three-and-out again, after Luke was sacked on third down to pin the Jayhawks deep. A bad snap on the punt was mishandled by Tucker, and rather than risk getting tackled in the end zone and fumbling, Tucker threw the ball out of the back of the end zone. (Colorado 9, Kansas 0).
3:07 - Scott Webb 25 field goal. Jason Swanson's first action of the season at quarterback produced a 9-play, 75-yard drive all the way down to the CU eight. The big play was a 40-yard completion on a deep ball to Charles Gordon, but the drive stalled after that, and Webb booted the field goal. (Colorado 9, Kansas 3).
Photo Gallery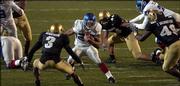 KU vs. Colorado
SECOND QUARTER
14:06 - Joe Klopfenstein 40 pass from Joel Klatt. KU again failed to pick up the tight end in pass coverage, and Klopfenstein was wide open for the pass reception. Klopfenstein bulled over Rodney Fowler to break the tackle and scooted into the end zone for the score. Mason Crosby kick. (Colorado 16, Kansas 3).
8:14 - Scott Webb 28 field goal. Colorado's discipline problems helped KU drive downfield. Three CU penalties resulted in 33 yards of free field, but Kansas couldn't get any closer than 11 yards away. A Jason Swanson pass to Charles Gordon in the end zone was overthrown, so Webb had to finish the drive with the field goal. (Colorado 16, Kansas 6).
1:44 - Charles Gordon 7 pass from Jason Swanson. Swanson looked sharp leading Kansas on a 46-yard, 12-play drive. He completed five passes in eight attempts, converting all four third-down plays. The same play Swanson failed to connect with Gordon on the last scoring drive was on target this time, and Gordon made an over-the-shoulder diving catch for six. Scott Webb kick. (Colorado 16, Kansas 13).
THIRD QUARTER
12:03 - Dominique Brooks 28 blocked punt return. KU moved just one yard on a three-and-out, and a heavy CU blitz on the punt was successful, as Brendan Schaub blocked the punt, Brooks scooped it up at the 28 and ran in untouched. Mason Crosby kick. (Colorado 23, Kansas 13).
6:47 - Joe Klopfenstein 3 pass from Joel Klatt. Colorado appeared ready for a 41-yard field goal by Mason Crosby, but a fake was called instead, and holder Nick Holz ran 21 yards for the first down. On the next play, Klatt found Klopfenstein open for the score. Crosby kick. (Colorado 30, Kansas 13).
FOURTH QUARTER
13:36 - Dusty Sprague 62 pass from Joel Klatt. Hugh Charles kept the drive alive on third down, scampering for a 27-yard run on third-and-nine. On the next play, Klatt found Sprague two steps ahead and streaking right to left, hit him with a strike and watched as Sprague sprinted in untouched. Mason Crosby kick. (Colorado 37, Kansas 13).
9:40 - Stephone Robinson 81 punt return. KU managed just one first down on a five-play drive, forcing Kyle Tucker to punt. The punt was decent, but Robinson found several holes, picked up several blocks and used a burst of speed to sprint into the end zone. Mason Crosby kick. (Colorado 44, Kansas 13).
Copyright 2018 The Lawrence Journal-World. All rights reserved. This material may not be published, broadcast, rewritten or redistributed. We strive to uphold our values for every story published.