Terrill Denny may have been the only college football player in America upstaged Saturday - or all season, for that matter - by his sister.
Denny, a fourth-year junior defensive back, intercepted two passes as Haskell Indian Nations University thumped Southwestern Assemblies of God U., 36-0, at Haskell Stadium.
Yet Denny's younger sister Brittany had a pretty good day, too. She was named Haskell's homecoming queen.
"Hey, it's great both ways," said Denny, a 5-foot-11, 220-pound free safety. "It's everything you could ask for. You can't ask for a better day."
Denny learned his sister had been named homecoming queen while sitting in the locker room at halftime.
"I was sitting against the wall when someone came in a said Brittany won," Denny said, "and we all started yelling because she lives in the same hall we do."
As it turned out, on the same day her older brother stole two passes, Brittany won her second homecoming crown. She had earned a similar honor during her senior year at Colcord (Okla.) High.
"I was excited for him and me both," Brittany, a sophomore, said after the game. "But I would rather he had the two interceptions and a shutout before I got homecoming queen."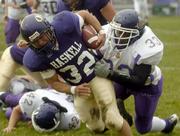 HINU coach Eric Brock didn't have a vote, but he issued a ringing endorsement for both Dennys.
"It couldn't happen to a better family," Brock said. "Terrill's one of our best students, a 4.0 guy. He's trustworthy. He's positive all the time, the type kid you love to coach."
So positive is Denny that he said he considered putting the brakes on the Fightin' Indians' five-game losing skid superior to his performance and to his sister's coronation.
"Ending that losing streak," Denny said. "That's the most important thing that happened today."
Haskell halted the slide because its defense, a strength all season, forced seven turnovers and the offense, which has struggled all season, compiled 431 yards, including an impressive 257 on the ground.
SAGU came in with a five-game losing streak, too, but the Lions' problem had been a porous defense, not a lack of offense.
"We knew they had some skill and were dangerous," Denny said of the Lions. "We watched them on tape, and they dropped 28 (points) on McPherson in the first half."
SAGU, averaging 27.3 points a game, suffered its first shutout of the season and fell to 1-6.
"They were 1-5 coming in," Brock said, "and we figured we have a chance and we need to beat them, and luckily we did."
Copyright 2018 The Lawrence Journal-World. All rights reserved. This material may not be published, broadcast, rewritten or redistributed. We strive to uphold our values for every story published.