Topeka — The Lawrence High cross country teams were able to finish higher than Free State in team results Saturday in Class 6A regional action at the Stateland Cross Country Course, but Free State's top individuals bettered all LHS runners.
The Lions finished second as a team in both the girls and boys races, and each clinched a trip to state thanks in part to most runners improving on their individual times.
"I thought the girls ran really well. Out of the top six girls, five of them had (personal records), which, the personal records, that's awesome when you can do it in a race like this," LHS coach Chip Anderson said. "The guys started off a little slow and then we just worked up through the pack like they've been doing all season long. They just attacked it the way they wanted to and moved up where they wanted to be at the finish line."
Both Kelly Renfro and Dylan Hedges, the top girls and boys runners for the Lions, finished third overall.
However, Free State's M.J. Hassaballa and Alysha Valencia were the top city runners, each placing second to lead their teams to third-place finishes and spots at state.
"Halfway through the race, I just felt terrible," said Hassaballa, who had slipped back to sixth place midway after running in the third spot. "I started cramping and stuff, but I hate to lose. I like to show effort, I like to compete and its just something from inside - dig deep and go after it. That's the only thing that kept me going."
Photo Gallery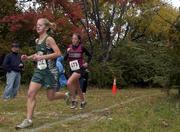 6A cross country regionals
Firebirds coach Steve Heffernan said it was amazing how there was a difference in backgrounds between Hassaballa and Valencia, yet both were able to finish so strong.
"Alysha's been up there all of her career, so far, in high school, since she was a freshman being in the top group," Heffernan said. "So she understands what meets like today are about and how to compete."
"M.J., on the other hand, wasn't running cross country a year ago. And so for him to come out and take second - and really not be all that far away from first - is really just a sensational performance by him."
Though Valencia finished second, she had a few slumps during her run.
"I'm not a good competitor yet. I haven't learned how to push myself and go with someone," Valencia said.
"So that's what I'm working on. And I did it a little bit today and I got the hills, which is my weakest point, and so I killed those today, so I'm really excited."
Doing well on the hills could be beneficial for Valencia, as state competition will be run at Rim Rock Farm.
Although the hills made it difficult for the runners, the cold, wet weather - which was not ideal for spectators - was perfect for runners.
"I ran so much better because of it," Hedges said of the low temperatures. "I like this kind of weather. It makes me feel good when I run."
While the temperature aided some runners, it had a different effect for Lawrence High's Kristina Taylor.
"The weather pushed me harder, because I wanted to get warm after the race," said the Lions runner, who finished sixteenth. "So I was like 'Yes, clothes!'"
Free State will host 5A and 6A state competition Saturday morning at Rim Rock Farm.
Copyright 2018 The Lawrence Journal-World. All rights reserved. This material may not be published, broadcast, rewritten or redistributed. We strive to uphold our values for every story published.