CAPE GIRARDEAU, MO. — In rancher Dave Hale's eyes, he hasn't had a real job for the last 40 years.
Instead, he's had a whole heck of a lot of fun. And it all began with one camel.
In 1960, he and wife Maxine Hale bought more than 150 acres just outside of Cape Girardeau. They made a living on the grassy-rolling landscape of the 5-H Ranch by breeding quarter-horses, but his stud died within the first few years.
Before Hale could replace it, someone offered to sell him a different kind of livestock: a camel. He thought, "Why not?" So, he traded the tractor for a camel.
That was in 1965.
Though the 5-H Ranch is closed to the public now, it operated as a drive-through ranch until the mid-1980s with chimpanzees, lemurs, ostriches, llamas and leopards.
Fast forward to today, and the camels have taken over. Hale now owns about 600 head of livestock on 120 acres, with about 100 camels, more than 300 deer, 20 donkeys, cattle, sheep, a zebra and a giraffe.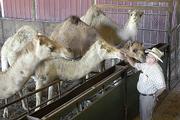 People often remark that camels stink, but Hale always answers with humor.
"They smell like money," he said with a laugh.
The bread and butter mainly comes from booking camels in parades, private events, movies and commercials, nativities and fairs. Hale's camels have stepped into every state and major parade in the United States, he said. Sometimes, Hale's 14-foot giraffe, J.C., also attends functions.
One white camel and Hale's youngest son appeared in the movie "The Scorpion King." Other camels were featured at the grand opening of Donald Trump's Taj Mahal and in a photo with Cape Girardeau Prosecuting Attorney Morely Swingle for his upcoming children's book.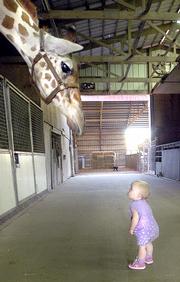 Hale owned the only eight-camel wagon hitch in the world since the Ringling Bros. Circus had one from 1908 to 1911, he said. Currently, six camels are on tour with Ringling Bros. Circus.
Part of Hale's success comes from how he raises his camels.
Camels have a natural tendency toward aggressiveness when they have little interaction with humans. So, Hale hand nurses each camel born in his stable, averaging around 30 to 35 babies a year. His tender attention raises the camels to have a gentle, affectionate nature that is curious about humans.
So, when a camel sticks its nose in a person's face, it won't bite or spit. It just wants a whiff of each individual's scent.
Besides, camels spit very rarely, Hale said. Camels also are smart enough to remember their cue during Christmas nativity pageants.
So much that several churches request camels for the same days. That's when their children help out the most in transporting and caring for the camels. It's a family business.
Copyright 2018 The Lawrence Journal-World. All rights reserved. This material may not be published, broadcast, rewritten or redistributed. We strive to uphold our values for every story published.