Tuscaloosa, Ala. — With a kick, a fumble and a catch, No. 5 Alabama ended a decade of frustration in its bitter rivalry with Tennessee.
Those three plays and a relentless defense lifted the Crimson Tide to a 6-3 victory over the 17th-ranked Volunteers on Saturday, keeping Alabama's perfect season intact in stirring fashion.
"What a way to win the game," Crimson Tide coach Mike Shula said. "Our guys hung in there for the whole game."
The final one was Jamie Christensen's 34-yard field goal with 13 seconds left for his second straight game-winner. Two other huge plays late made it possible.
Tennessee (3-3 overall, 2-3 SEC) had appeared poised to take the lead when it had the ball first-and-goal at the Alabama 3. Mistakes pushed the ball back to the 15 by third down, and a final one turned the game around.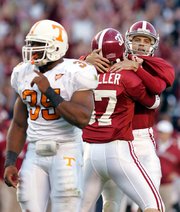 Cory Anderson caught a swing pass and headed toward the end zone. Alabama's Roman Harper jarred the ball loose near the goal line, and it bounced out of the end zone with 5:08 left, giving the Tide (7-0, 5-0) the ball and stopping Tennessee's hopes of breaking the tie.
"I wasn't thinking they were going to score," linebacker DeMeco Ryans said. "I knew one of our safeties was going to come in and hit him. I didn't think they were going to score."
After Alabama took over, Brodie Croyle hit DJ Hall for a 43-yard gain down the left sideline on third-and-eight to keep the game-winning drive going, one of the few big plays supplied by either offense.
"When we came to the huddle, Brodie came right at me," said Hall, who had 10 catches for 139 yards. "He said, 'Hey, I'm coming right to you so just run.' That's what I did. I gave (the defender) a little move and ran by him, and Brodie just put it in the right spot."
After Ken Darby's 11-yard scamper pushed the ball to the Tennessee 14, Alabama milked the clock down to 18 seconds with the Vols out of timeouts for Christensen's kick.
"I've done it a 1,000 times," said Christensen.
Copyright 2018 The Associated Press. All rights reserved. This material may not be published, broadcast, rewritten or redistributed. We strive to uphold our values for every story published.