Kansas City, Mo. — The Kansas City Chiefs cut practice short Thursday and began frantically packing up everything from video equipment to a fresh change of underwear, hurrying to Miami ahead of Hurricane Wilma.
The league's decision to switch their game with the Dolphins from Sunday afternoon to Friday night at 6 CDT did not please the Chiefs, who had offered to host the event and hoped it would at least be moved to a neutral site.
"Candidly, I think without any question, this puts us at a competitive disadvantage," said team president Carl Peterson. "It's a lot to ask to shorten your week, which both teams have to do, but then get on an airplane and fly for 3 1/2 hours on the same day you're going to play a 3 1/2-hour National Football League regular-season game."
The Chiefs did not get a decision from the league until Thursday morning.
"We've made a lot of contingency plans, including the possibility of playing (in Kansas City)," said Peterson. "But the league kept vacillating back and forth and finally made a decision.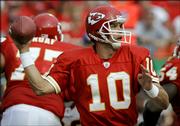 "It's a challenge to everybody in the organization."
The New Orleans Saints, chased out of the damaged Superdome by Hurricane Katrina, played their season opener against the New York Giants at the Giants' Stadium.
"But they had 10 days to prepare for it," Peterson said. "This is almost less than 24 hours before kickoff."
He said the Chiefs will become the first team in NFL history to fly to a city on the same day they'll play a regular-season game there.
Dick Vermeil said he had not coached a game on a Friday night since his days at Hillsdale High School in San Mateo., Calif., in 1962.
"We take off at nine o'clock in the morning. We'll have chapel, pregame meal and go play," he said. "What's the weather conditions going to be when those guys play tomorrow night? Is it going to be a football game or a mudbath? But hey, that's the message that's been sent.
"If the New Orleans Saints can go do what they've had to do, the Kansas City Chiefs can go do it one weekend," Vermeil added.
Playing a game almost 48 hours early could also put the Chiefs at a disadvantage in another way. With one of the oldest offenses in the NFL, their 30-something backs and linemen will have less time to heal from last week's game against Washington.
Chiefs at Dolphins
When: 6 tonight Where: Dolphins Stadium, Miami Records: Chiefs 3-2, Dolphins 2-3 Line: Dolphins by 2 TV: Channels 5, 13
"We'll make it an advantage," Vermeil said defiantly. "Maybe we didn't have time as coaches to foul it up."
Apparently, Chiefs fans outside the immediate Kansas City area also will be inconvenienced. The league said the telecast outside of Florida would be allowed only in the Kansas City, Mo., and Topeka, Kan., markets. This means fans in such cities as Pittsburg and Wichita, Kan., and Joplin and Springfield, Mo., apparently will not see the game.
Danny Thomas, president and general manager of KOAM-TV in Pittsburg, which also covers Joplin and parts of Oklahoma and Arkansas, said his station began receiving calls from concerned viewers almost immediately.
"The network says the NFL says only the home market and adjacent market can carry, although I say I'm an adjacent market," Thomas said. "This is the first time, and I've been general manager since 1988.
"We heard about it from our viewers before we heard about it ourselves. CBS contends they have nothing to do with it. We haven't appealed to the NFL. It would have required scrambling, but it's going to require scrambling for anyone who carries it."
Not carrying the popular Chiefs comes at a bad time for his station, Thomas said.
"You're heading into sweeps and you have your book and you wouldn't be airing things you told people you would be airing. Conversely, there is a tremendous interest in this area for the Chiefs, and those people now don't have an outlet to see that game at all."
Lurking around the corner could be at least one advantage for the Chiefs, who'll travel to San Diego next Sunday for an AFC West Division game against the Chargers. This will give them two extra days to rest and prepare for the long trip.
"There could be an advantage on the back end. There could be," Vermeil agreed. "It gives us a little more time to prepare. (But) sometimes we do a better job when we don't have too much time. We get too many smart ideas."
Copyright 2018 The Associated Press. All rights reserved. This material may not be published, broadcast, rewritten or redistributed. We strive to uphold our values for every story published.