For years, Pat Green was considered one of the best country singers nobody had heard of.
Well, the word is out.
With a song that recently broke the top 20 on the country charts, an opening slot on Kenny Chesney's summer tour and a music video playing in regular rotation on CMT, the longtime crooner with a rabid following in Texas has officially hit the national scene.
"I don't want to say it's by design, because certainly I would love to have been further along by now," says Green, who's been making music for 15 years. "But at the same time, we always had the philosophy that slow growth in the music business is permanent. If you try to grow real fast in the business, it seems like most of the time you get swept up on the way."
Green, fresh off his tour with Chesney and new superstar Gretchen Wilson, plays at 8 p.m. Saturday at The Granada, 1020 Mass. He says he's glad to be back on his own, the way he toured for about seven years prior to this summer.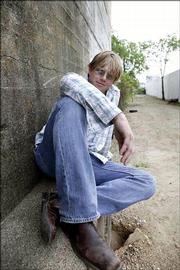 "I'm certainly more used to being the closer as opposed to the opener," Green says. "Opening for Chesney for the summer was fantastic, not just to see what a really big tour is all about but to get a chance to play on the big stage for the entire summer. It was humbling in that we went on before daylight had expired, before the sun went down."
Green, 33, has been writing and performing songs since his days as a student at Texas Tech University. He was born in San Antonio, raised in Waco, and now is based in Austin.
He became a Lone Star State icon playing the bar circuit, but his fame never caught fire elsewhere.
Green sold more than 300,000 albums before signing with a major record label, which he did with Republic/Universal in 2001. He's enjoying finally being in a brighter spotlight.
"It seems like everything, to me, is working in the right direction," he says. "It kind of lets me have two or three careers. It's difficult for people to jump on a band and stay on for a long, long time. So to keep having fresh blood is really great."
While vowing to stay true to his Texas roots, Green says focusing on climbing the country charts and getting TV exposure will only help his career.
Audio clips with Pat Green
"Radio play and being part of the media and in the public eye, those things - you can't put a price tag on them if you're going to try to be in showbiz," Green says. "This is showbiz, right? You've got to be in the public."
Green now has 10 albums under his belt and has been nominated for three Grammys - Best Country Song in 2003 and 2004, and Best Country Performance in 2003.
On his most recent album, "The Lucky Ones," Green co-wrote two songs with Rob Thomas, the Matchbox Twenty frontman. He also co-wrote a song with fellow country singer Brad Paisley.
Past Event
When: Saturday, October 22, 2005, 8 p.m.
Where: The Granada, 1020 Mass., Lawrence
Cost: $22.50
-->
-->
"My dad was always kind of a guy that said you have to learn the whole craft," Green says. "I think I'd be incomplete without (songwriting). Then again, there are guys out there, they're doing really great in country music and it's just not important to them to write a song. And I don't have anything against that at all."
Green's music has been called traditional country, alt-country and "Texas country." He says he's as comfortable in a college-town bar as he is in a Texas dance hall.
And he doesn't worry about how he gets categorized.
"You could call my music Chinese polka if you like it," he says. "I don't sit down and write country music. Nor do I sit down to write rock and roll or anything else. I just sit down to write my music. And if it comes out a certain way or another and you dig it, man, I'm all about that."
Copyright 2018 The Lawrence Journal-World. All rights reserved. This material may not be published, broadcast, rewritten or redistributed. We strive to uphold our values for every story published.