Area food pantries are running low on supplies.
Many reported needing dry food products, such as pasta, oatmeal and cereal.
"We're OK on canned goods right now," said Tina Hernandez, head of the food pantry at Pelathe Community Resources Center. "But anything would be greatly appreciated. The food we're in dire need of is dry pasta and any canned meats."
Several local pantries reported needing dry beans, macaroni and cheese, dry rice and Hamburger Helper-type products.
The Salvation Army is in need of all items, including canned goods and diapers.
Food donations will be accepted at the "Love from Lawrence" benefit from 10 a.m. to 6 p.m. Saturday. Donations also can be dropped off at food pantries.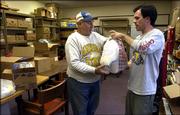 Those pantries include:
¢ Ballard Center, 708 Elm St.
¢ Eckan, 2518 Ridge Court No. 103
¢ Penn House, 1035 Penn.
¢ Pelathe Community Resource Center, 1423 Haskell Ave.
¢ Salvation Army, 946 N.H.
¢ Trinity InterFaith Food Pantry, 1011 Vt.
Copyright 2018 The Lawrence Journal-World. All rights reserved. This material may not be published, broadcast, rewritten or redistributed. We strive to uphold our values for every story published.