Facing $30,000 in damages and a big, fat N-O from his insurance company, Michael Clover can't help wondering why he ever bothered to buy homeowner's coverage.
"I really think I'd be better off if I'd just put all that money in the bank and self-insured," Clover said Wednesday.
Clover, his wife, Beth, and their two daughters live in the half of a duplex that's next door to and downhill from the Boardwalk Apartments building that was destroyed by fire earlier this month.
Runoff from the gallons and gallons of water aimed by firefighters at the blaze overwhelmed Clover's sewer, causing it to back up.
"The drain in the utility room, the sinks, the toilets - everything just started backing up," said Clover, who owns the duplex. "We probably had 10 firefighters in and out of there for like two and half hours, helping us push the water out. We couldn't keep up."
Surely, Clover figured, his homeowner's insurance would cover the damages.
He figured wrong.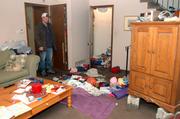 Not all homeowner's policies cover damages caused by sewers backing up. Clover's does not.
"It turns out they don't even offer it," he said, referring to his insurer, ZC Sterling, a Georgia-based company.
Calls to ZC Sterling's corporate office in Atlanta were not returned Wednesday.
Clover, 29, said he's insured with ZC Sterling because it was part of his loan with Chase Home Mortgage. He's filed an appeal with ZC Sterling, claiming the damages were more fire-related than sewer-related.
"I'm waiting to hear from them," he said.
But the Kansas Insurance Commissioner's Office isn't optimistic.
"Unfortunately, it appears he doesn't have the kind of coverage that would protect him against what happened," said Charlene Bailey, a spokeswoman for the insurance commissioner's office.
Bailey said the commissioner's office could not force an insurer to pay for damages that are not covered.
"We have no leverage of any kind," Bailey said.
Clover said the repairs and replacing the family's refrigerator, washer and dryer were expected to cost more than $30,000.
"We don't have that kind of money," he said. Clover is a truck driver; his wife is a medical assistant.
The Clovers have the option of suing the city of Lawrence or Boardwalk Apartments.
"But that takes a lawyer, and to hire a lawyer takes a $5,000 retainer," Clover said. "We don't have that either."
City and fire department officials have given the Clovers written statements, conceding that the water from the fire caused the sewer to back up.
"We're trying to help them," said City Manager Mike Wildgen.
Still, the city denied a claim filed by Clover.
"Our liability is limited to issues of negligence, and we've not found negligent actions on our part," said Jennifer Harvey, risk manager with the city's administrative services department.
The Clovers praised Lawrence firefighters.
"They were wonderful, thoughtful, helpful and kind," Beth Clover said. "We couldn't have asked for any better help that night."
Since the fire, the Clovers have been living with Beth Clover's mother in North Lawrence.
The family can't return to the duplex because their youngest daughter, Abigail, 4, has asthma.
"It has to be professionally cleaned because of all the fumes and mold that are in there now," said Beth Clover. "It's not something we can do."
Michael Clover said the family may have to file for bankruptcy.
"I don't want to lose what I've spent the last seven years paying on," he said. "But right now, I don't know what else we can do. We can't keep making payments and pay to clean it up."
Chris Chapin, an agent with Stephens Insurance, said he didn't know the Clovers, but he encouraged all homeowners to call their agents to find out whether they have sewer-backup coverage.
"With some companies its 'standard equipment,'" he said. "With others it's optional and some don't offer it. So if you don't know, you need to find out."
It's also good advice, Chapin said, to deal with companies that have local representatives.
"You want to be dealing with someone you can sit across from, someone whose neck you can get your hands around," he said.
Boardwalk Apartments Fire
More on the Boardwalk Apartments Fire
Copyright 2018 The Lawrence Journal-World. All rights reserved. This material may not be published, broadcast, rewritten or redistributed. We strive to uphold our values for every story published.