The response was swift.
Five of the 10 people identified by the sheriff's office as Douglas County's "Most Wanted" fugitives were arrested within two days of the article appearing in Monday's Journal-World.
"I think they were all results of the article and law enforcement actively working on the tips that we received," said Lt. Kari Wempe, of the Douglas County Sheriff's Office.
Between 40 and 45 calls came into the county's Crime Stoppers hot line, 843-TIPS, on Monday alone. But at least one of the callers - the ex-girlfriend of one of the men on the list - is upset because she was told she wouldn't be eligible to receive a cash reward.
"I believe it's wrong that I don't get the reward," said Jessica Herpel, 31.
Herpel said she is the ex-girlfriend of Aaron D. Johnson, 29, who was wanted for violating probation in a 1995 forgery case. She alleges that about 1 a.m. Tuesday, Johnson came to her apartment at Hampton Court, 1722 W. 24th St., forced his way inside, and pushed her to the ground.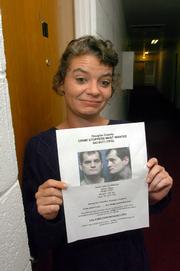 She fled the apartment and called 911. Initially, police came to the complex but couldn't find Johnson, she said, but he returned to her apartment later in the night. According to jail records, he was then arrested on suspicion of domestic battery and criminal damage to property - in addition to his outstanding 1995 case.
Herpel said she'd called the Crime Stoppers hot line on Monday - before her encounter with Johnson - to pass on information about his whereabouts, but that she didn't get a call back from Crime Stoppers until after his arrest Tuesday.
To her surprise, she was told she wasn't eligible for a reward because she called 911 instead of reporting Johnson through Crime Stoppers.
"If someone is in your backyard or your home, you're going to call 911, not the TIPS hotline and wait for a voice mail," she said.
Herpel said she could use the reward money because she wants to find a new place to live and to get away from Johnson.
Photo Gallery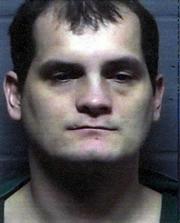 Douglas County's "Most wanted"
Douglas County Undersheriff Ken Massey, who takes Crime Stoppers calls, said it's true he told Herpel she wasn't eligible for a reward because it wasn't her call to Crime Stoppers that led to Johnson's arrest. But he said he'd be willing to describe her case to the private organization's board members to see if they'd be willing to pay her a reward.
Just because someone is arrested as a result of a Crime Stoppers' tip doesn't mean he or she will get a reward. Massey estimated that the group pays a reward in roughly one out of 10 cases involving an arrest.
Also, though Crime Stoppers advertises paying a reward of "up to $1,000," Massey said he couldn't recall a case where the organization actually has paid $1,000.
"It would have to be a major felony case," he said.
That's not to say that people don't occasionally collect. Most recently, he said, the organization paid $100 last month for a tip that led to the arrest of someone wanted for a parole violation.
Those on the "Most Wanted" list who were arrested between Monday and Tuesday were Johnson, Mark T. Backun II, Thomas A. Ray, Troy E. Jarrett and Mandy S. Goodman.
Goodman, Backun and Ray all were released from jail on bond and given future court dates. Jarrett and Johnson remained in the Douglas County Jail as of Wednesday evening.
Copyright 2018 The Lawrence Journal-World. All rights reserved. This material may not be published, broadcast, rewritten or redistributed. We strive to uphold our values for every story published.