It's the peak time of year for drivers to find deer in their headlights - or to hear the "thud" of one jumping into the side of their car as they speed down the highway.
"A car was coming the other direction and went by me, and all of a sudden there was a deer right in front of me," said Paul Hamersky, of Lecompton, who hit the animal about 6:15 a.m. Monday on Kansas Highway 10 while driving to work in Baldwin. "I didn't see it until I hit it. I never even had a chance."
Car-deer accidents typically peak between October and December, as the animals are busy mating and storing up fat for the winter.
This year is no different, and police are warning drivers to be alert.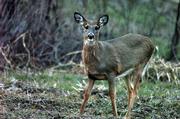 "During the month of October alone, we've had 10 noninjury accidents involving deer," said Lt. Kari Wempe, of the Douglas County Sheriff's Office. That includes four on Monday, she said.
Last year, deer accounted for nearly 10,000 accidents statewide, including four fatalities.
Lt. John Eickhorn, a Kansas Highway Patrol spokesman, said one of the most common ways people are injured during the wrecks is when they swerve to avoid the deer. Usually, he said, it's safer to just brake and hit the animal head-on.
The driver of an asphalt truck suffered injuries Tuesday morning when the truck overturned on County Road 458 east of County Road 1055. The driver, identified as John Wilks, was flown to a Kansas City-area hospital with a possible head injury. His brother, Roger Wilks, said he'd been told the wreck happened when his brother swerved to avoid a deer, but sheriff's spokeswoman Wempe said she couldn't confirm that Wednesday because deputies hadn't yet interviewed John Wilks.
A condition update on Wilks was not available Wednesday.
Stay safe
Police offer the following tips to avoid and lessen the severity of deer-related wrecks: ¢ Intentionally look for deer. Be especially alert at dawn and dusk. ¢ Slow down near woods, parks, golf courses, streams and deer-crossing signs. ¢ When one deer crosses the road, be prepared to stop for others. They usually travel in groups. ¢ Slow down when approaching a deer that's standing by the roadside. They have a tendency to bolt into the road. ¢ Always wear a seat belt. ¢ If you hit a deer, pull onto the shoulder, turn on your emergency flashers and watch for traffic before getting out. Don't try to remove the deer from the road unless you're sure it's dead. If you have a cell phone on a state highway, dial *47 (HP) for the Kansas Highway Patrol or *582 (KTA) on the Kansas Turnpike.
Copyright 2018 The Lawrence Journal-World. All rights reserved. This material may not be published, broadcast, rewritten or redistributed. We strive to uphold our values for every story published.