Can Matt Kenseth work the comeback magic one more time?
Kenseth enters Sunday's Subway 500 at Martinsville (Va.) Speedway ninth in the Chase for the Nextel Cup, trailing co-leaders Tony Stewart and Jimmie Johnson by 124 points with five races remaining.
Those are certainly not insurmountable odds.
Earlier this season, Kenseth appeared destined to battle for 11th place when he was 17th in points following the July race at Pocono and 213 points outside the top 10. But he rallied over the next six races to earn one of the 10 spots in the Chase.
Now, five races into the Chase, he finds himself in another hole. But hope remains.
Kenseth leads all drivers this season on the Nextel Cup circuit's short tracks, earning one win, two top-five and two top-10 finishes and scoring 752 points on five short track races.
Martinsville, where Kenseth finished 11th in April, is the final short-track race of the season.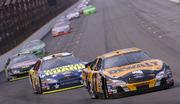 "Our record has certainly been inconsistent at Martinsville. Back in the spring, we ran in the back most of the day and were fortunate to stay out of trouble and be there at the end," he said.
"I think we may see a lot of cautions and it will be important to take care of your equipment and try to avoid trouble."
Kenseth, the 2003 series champion, was unable to stay out of trouble during last Saturday night's tire-blowing, wreck-marred race at Lowe's Motor Speedway in Concord, N.C.
He was among the first Chase contenders to experience problems in the race and ended up 26th.
But considering Kurt Busch made up 82 of a 224-point deficit in the Charlotte race, there remains plenty of time for Kenseth and his No. 17 Roush Racing team to rally for another come-from-behind finish.
"You saw Jimmie Johnson last year. I don't remember how many points he was out, but he was way, way out of it and won a whole bunch of races at the end and came real close (to winning the title) - right down to the last lap at Homestead," Kenseth said.
"Anything is still possible. Our performance has been good. We've been running pretty good, and I think we can get back in it."
Kenseth also has the benefit of four other Roush Racing teammates in the Chase, all of whom can provide advice and information that benefits each of the teams.
"When I first got there, it was Jeff (Burton) and Mark (Martin) working together and then it was (Greg Biffle) and the No. 97 and they didn't help them and didn't share information with them," Kenseth said.
"When we all started working together and they got five drivers in there that could all work together and five crew chiefs that could all work together, that was huge.
"The engine deal with Roush and (Robert) Yates working together has been a tremendous advantage. We don't have to worry about engines anymore and can just concentrate more on the car."
While good performances in the final five races will be key to Kenseth's title hopes, his crew chief, Robbie Reiser, believes another ingredient is just as important.
"Any race we go to, racing luck is a key. You've got to have things fall your way to win these races. You can't have something go against you and win," Reiser said.
Copyright 2018 The Lawrence Journal-World. All rights reserved. This material may not be published, broadcast, rewritten or redistributed. We strive to uphold our values for every story published.