To find out about what Matt Stiles is to the Lawrence High football team, you first have to start with what the senior is not.
Stiles is not a starter.
Then again, he's not a complainer, either.
"I have to be ready for any opportunity that I get," Stiles said. "That's true for anybody that doesn't start. They're still important. Everybody tries to add what they can to the team."
Thing is, Stiles is far from the typical backup.
The senior finds himself on the field as a fullback, safety and special-teams player. He has rushed for 100 yards in a game this season. He has intercepted a pass.
And, according to his teammates, he's also about as valuable as they come.
"There's not really any selfish people on our team, and Matt's a perfect example," teammate Scott Penny said. "He's not going to care whether something's said about him in the paper.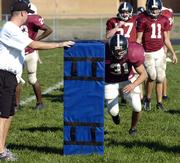 "He's the kind of guy that everybody would like to be."
Battling through
Here's something else about Matt Stiles: He's not a quitter.
Against Olathe North in the second game of the season, Stiles was on kickoff coverage when he severly jammed his right wrist.
"It hurt like crazy," Stiles said. "I couldn't rotate it or anything, but I didn't want to come out. It was too big of a game. I probably should have, but playing in that game meant too much."
So, the senior didn't tell his coaches. He continued playing.
And, perhaps not coincidentally, the Lions held on to win, 18-13.
The next day, Stiles found out the severity of his injury. He had played the entire second half with a fractured wrist.
After missing a week, he was cleared to participate by doctors while using a softer cast.
He has played every week since, not allowing the obstacle to keep him from the field.
"This football team means so much to me that I've just embraced it as a challenge that I have to take," Stiles said. "I'm willing to play through pain to help out the team and to win."
Great character
Matt Stiles is not a big talker.
While others might feel they must speak to be a leader, talking at every opportunity only to have their words go unheard, Stiles picks his spots to speak his mind.
But one thing is clear: When he talks in the locker room, teammates listen.
"I'm not very vocal," Stiles said, "but when I feel the need to speak up, I think people take that to heart."
Stiles is also not a player LHS coach Dirk Wedd has to worry about outside of football.
"He goes over and above what we expect of him," Wedd said. "He's a high-character kid and a great student."
Stiles is also there for teammates when they need to talk about football or personal matters.
Because of this, he has earned a special place among his peers.
"If anyone was going to be team chaplain, he would definitely get voted," Penny said. "He's someone you want your entire football team to act like on and off the field."
Savoring the moment
Matt Stiles is not going to grab headlines. Most times, he's not even in the middle of big plays.
That's because, as the fullback, he's often setting up those plays.
"He's not the one getting all the yards," Penny said, "but he's the one making the big blocks so those guys can make big yards."
After all this, Stiles still does not find himself in the starting lineup. But that only motivates him more, making him relish every second that he does have on the field.
"It kind of makes you realize your one opportunity is your only shot," Stiles said, "and you've got to make the best of it."
Copyright 2018 The Lawrence Journal-World. All rights reserved. This material may not be published, broadcast, rewritten or redistributed. We strive to uphold our values for every story published.