Despite a school-record 22 team blocks and 16 kills from senior middle blocker Josi Lima, Kansas University dropped a four-game match to visiting Iowa State Wednesday night at the Horejsi Center.
ISU won, 30-23, 30-27, 22-30, 30-25, dropping KU to 12-7 overall, 4-6 in the Big 12.
KU totaled 11 solo blocks, tying the school record - against Colorado on Nov. 15, 1991 - for a four-game match. The Jayhawks' 22.0 total stuffs were the most in four games since blocking records have been kept at KU.
"The stat sheet looks pretty promising, but the final results were disappointing," KU coach Ray Bechard said. "Iowa State is by far the most improved team in the league and maybe in the country. I thought they played with confidence here and should be congratulated."
Photo Gallery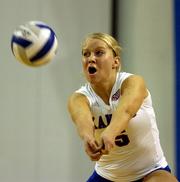 KU vs. Iowa State
Lima hit at a .361 clip and added 11 digs and 3.5 blocks in the effort. Senior Paula Caten added 13 kills and tied a match-high with 14 digs and three aces. Junior Megan Hill set a career best with nine kills and 4.5 blocks (two solo), and freshman Savannah Noyes contributed eight kills and career-high 6.0 blocks (three solo).
"It seems like we shot ourselves in the foot in game four," Bechard added. "People are going to remember game four, but really in game two we had a good opportunity that we let get away. The six serve errors in game four really kept us from building any momentum."
KU will travel Saturday to Baylor.
Copyright 2018 The Lawrence Journal-World. All rights reserved. This material may not be published, broadcast, rewritten or redistributed. We strive to uphold our values for every story published.